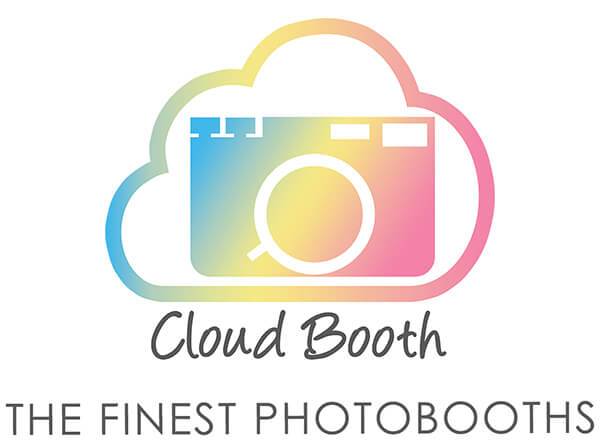 Cloud Booth offers the premier photo booth rental service for sophisticated hosts with a discerning eye. It is the perfect choice for you who seek to impress guests with a grand reception at your event and gift them with photos of superb clarity.
At Cloud Booth, we offer the finest, true studio-style instant photo booths in Singapore for weddings and large-scale, important corporate events, community events, and other functions. We provide a seamless and hassle-free experience for your event, ensuring that your guests have a memorable time and leave with stunning photos to remember the occasion.
Each of our finest photo booths features:
Full frame camera
Dual studio lights true studio setup
Superb clarity in photos
Custom printed props
Bespoke print template designs
Multiple print sizes for guests
Option for Monochrome Prints
Digital photos refined after event and returned to you
Integrated Instagram hashtag printing
And industry-standard features like:
Unlimited instant prints
Get your photo fast in ≤ 8 seconds
8 print size options including Upsize 5R; Supersize 6R & more
Fitting plastic sleeves for photos
No Cloud Booth logos on print designs
Live View monitor for guests to see and perfect poses
Gorgeous backdrops for all events
Huge range of props for immense creative joy
Instant sharing on Facebook
Instant private download link (QR code) for privacy
Instant photo emailing service for privacy
Live streaming in ballroom
Our Finest Photo Booth prices start at $899 for 2h (See our no-frills Delite packages too)
Contact us today to request our latest rate card for premium photo booth rental in Singapore.
Read on to find out why we have The Finest Photo Booths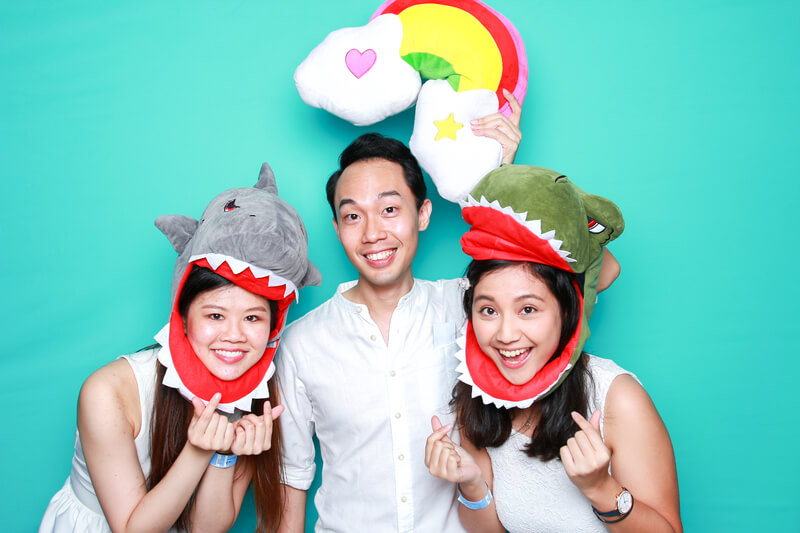 A SYMPHONY OF PROPS
An abundance of photo booth props makes for an immensely fun experience at Cloud Booth! Our Photo Booths, GIF Booths and Green Screen Photo Booths all come with a huge selection of wacky props ranging from speech bubble-type props to role-playing toys that bring out the Oscar-winning actors and actresses in you!
Shutter shades! Musical instruments! Big whistles! Supersized plushies! Crazy headgear! And many more! We also have an exclusive set of Chinese well-wishes just for older folks, and we regularly make encourage aunties and uncles to hold some props to their amusement. How many props do we provide? A whole long table top covered with them!
Multiple Print Sizes & Photo Templates
Guests can choose from 2 or more photo template designs. These different designs can also be printed in various photo sizes. Older folks who usually like 1 single shot on a large 4R photo print can have that, and at the same time, younger groups that love posing for multiple shots on a cute photo strip are also catered for. Spread the joy!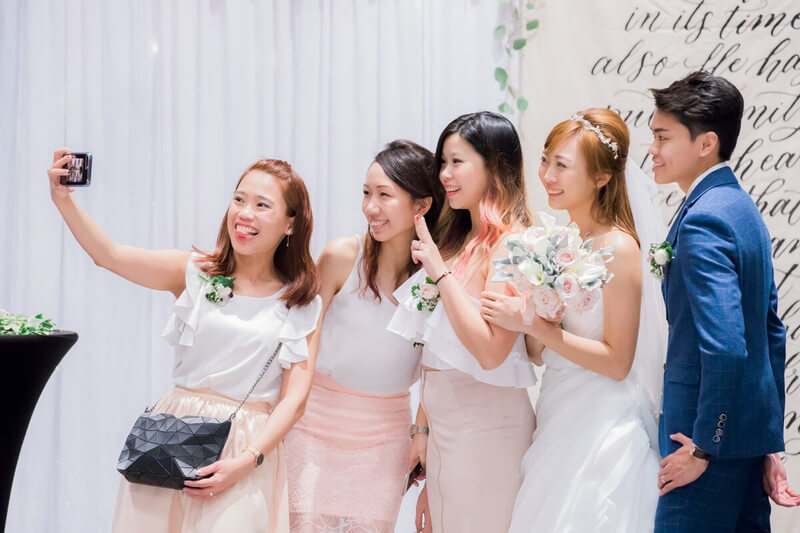 Integrated Instagram Hashtag Printing
Our Finest Photo Booth packages come with an integrated Instagram Hashtag Printing function. For guests who don't want to queue for the photo booth, they can simply take photos elsewhere with their phones, post them on Instagram with your event hashtag and collect their photo prints at our booth within minutes.
Skip the photo booth queue and print photos taken with their phones - all guests can have fun and enjoy the photo printing service simultaneously.
Take photos anywhere at the venue - in the pretty ballroom or in front of decor you have done for the venue.
With all the hashtagging, social media engagement will be greatly enhanced - you will have a wide collection of photos taken by your guests by the end of the event.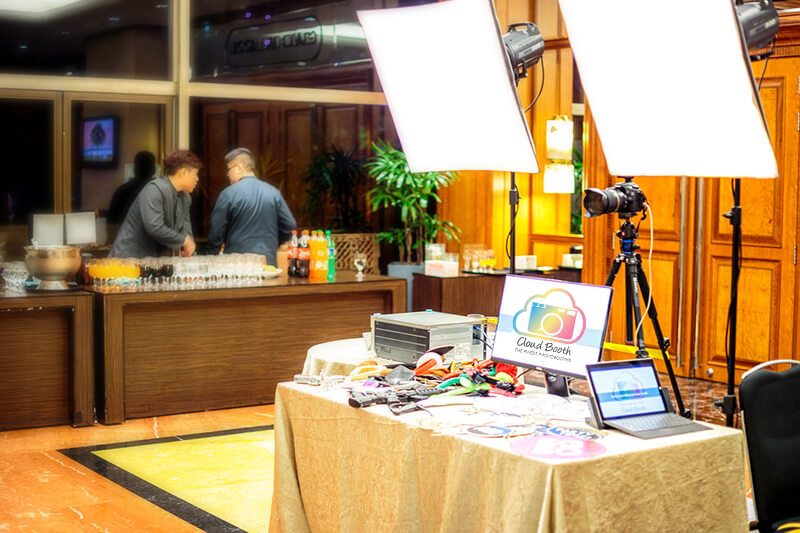 A True Studio-Style Photo Booth
Pamper your guests with the finest instant photo booth. Our true studio-style instant photo booths in Singapore employ a setup similar to that of professional photography studios. Each instant photo booth features two studio lights fitted with flattering light enhancers, a DSLR system mounted on a stand, and a high-speed photo printer, all controlled by our dedicated photo booth software. A large live view monitor shows guests how they look before photos are taken and allows them to review photos after they are taken and retake them if they wish. With our photo booth rental services, guests are sure to be impressed by both our elaborate setup and the high-clarity photos our booth produces at your event.
Serious Equipment
We use the same equipment used in professional photography studios worldwide. Full-frame DSLRs with top-of-the-line Canon L lenses & Carl Zeiss lenses, together with twin studio lights from the Swiss brand, Elinchrom, fitted with light enhancers, produce the incredible clarity our photo booth rentals are known for. ​These gorgeous photos are then instantly transformed into premium prints by Japanese high-speed flagship events printers, taking only seconds per print.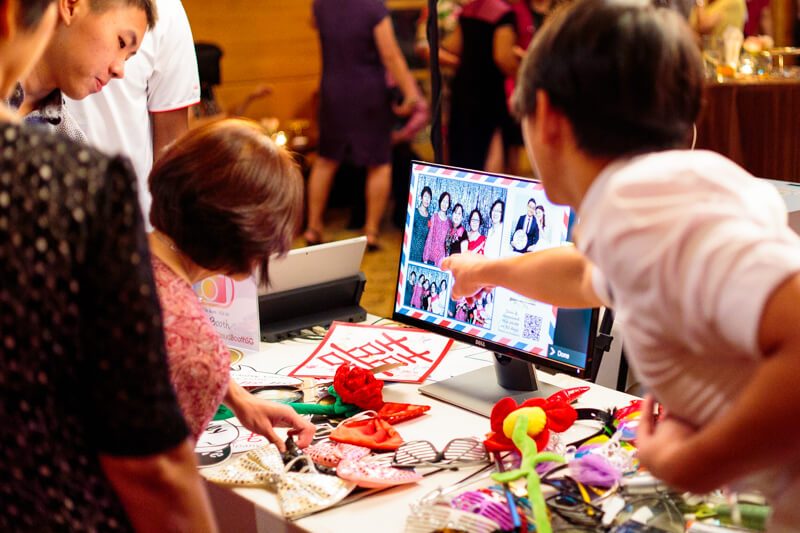 The Best Onsite Support
All of our true studio photo booths are set up and operated by at least 1 of our photographers and assistants onsite. Once set up, our dedicated photo booth software takes care of the photo taking, producing consistently great results frame after frame for the duration of the service. This frees up our photographer and assistant, allowing them to actively help guests in positioning themselves and in other aspects of photo taking. We are pretty good with kids too!
Live Feed in Ballroom
Our live feed provides a constant stream of fresh content on the ballroom screen(s). It functions as an excellent filler in between your own content! All Photo Booth, GIF Booth, Green Screen Photo Booth, Roving Photography, Table Shots Instant Print, and Hashtag Printing packages include a live screening of photos taken as part of our services. Photos appear on screens almost instantly after they are taken and loop when there are no new photos. We provide our laptop, and setting up is simply plug-and-play, making it easy to switch back and forth between your own feed and our live screening feed.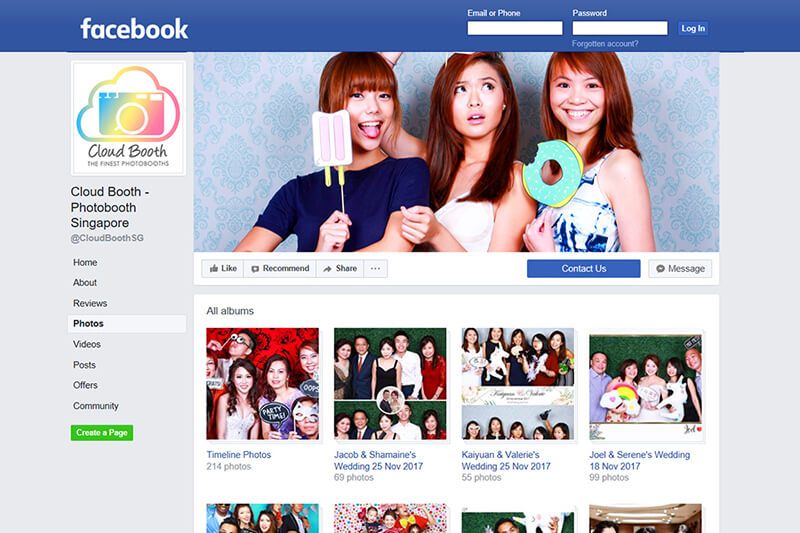 Instant Facebook Upload
For our instant print services, photos can be uploaded onto our public ​Facebook page and organised in an album with your event name within seconds after they are taken! Guests can instantly and conveniently download and share a soft copy of their photos on social media! There is no need to wait until the event is over!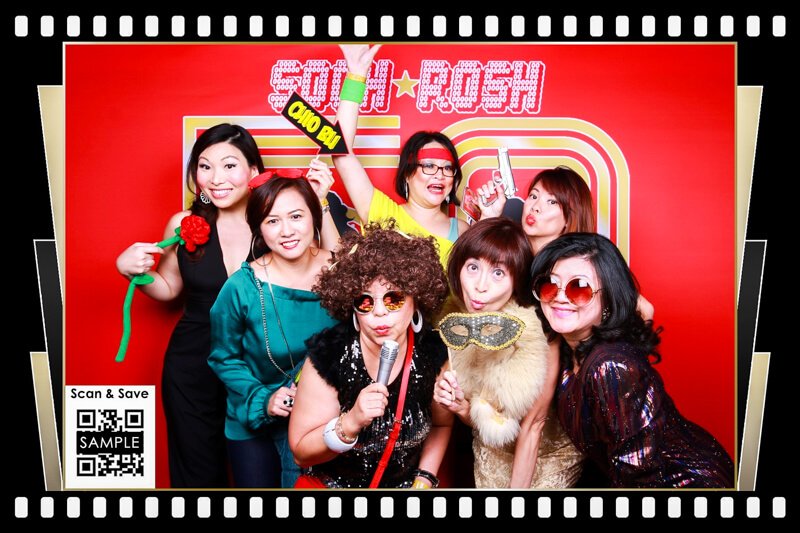 Private Download Links
If you want more privacy, opt out of FB upload and choose this instead! Our private download link option prints a unique QR code on each photo, allowing only guests with the printout to download and share the soft copy directly from the Cloud. They can do this as soon as they receive their prints. Excellent for corporate events!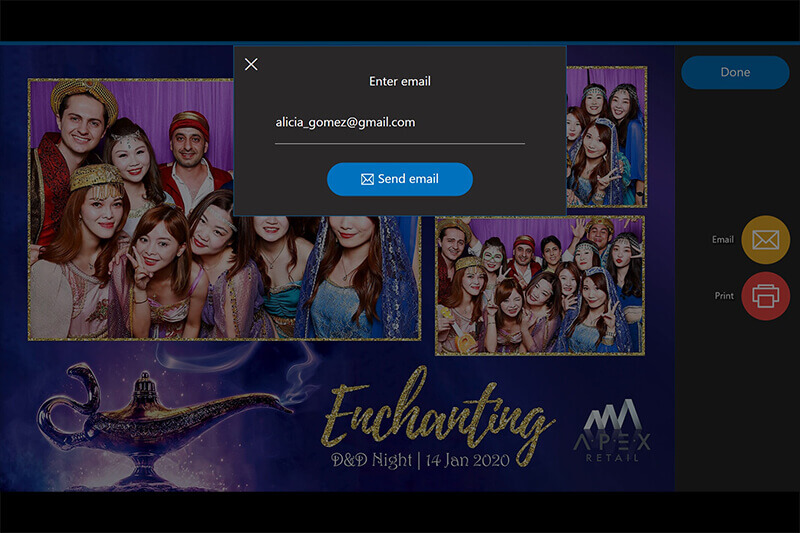 Emailing of Photos
Another private sharing option - our booths allow guests to email their photos to themselves! Once a photo is taken, guests can enter their email address right in our photo booth software and send it to themselves instantly. Privacy is assured. Email addresses entered are deleted after each event unless otherwise instructed. For corporate events like networking sessions, tradeshows and roadshows, companies find this function useful for the collection of email addresses for follow-up.
THE TRUSTED PHOTO BOOTH SPECIALIST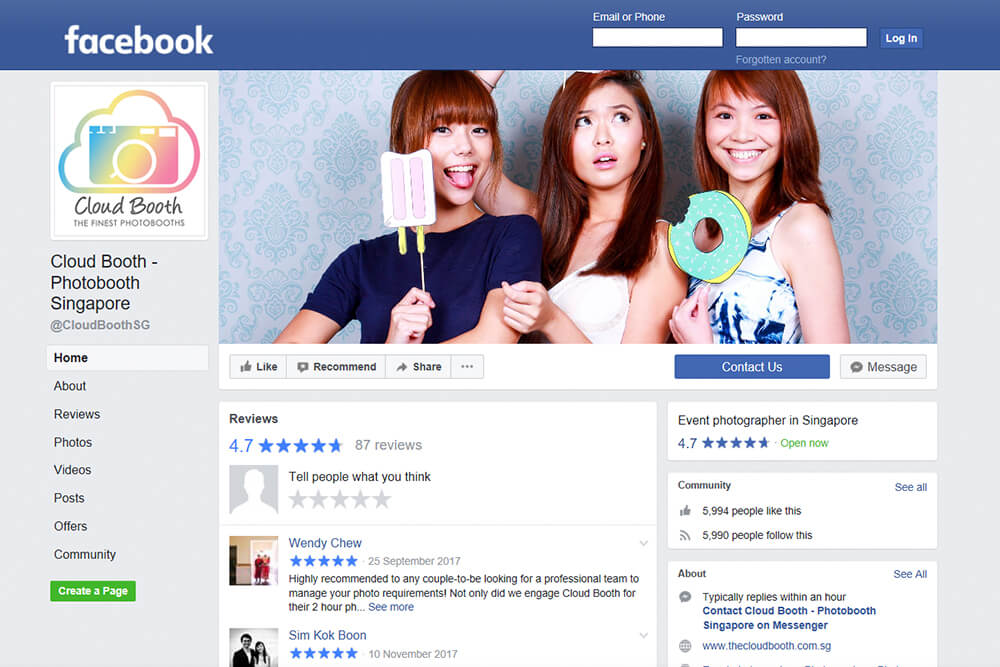 Photo Booth rental, Roving Photography and other instant print services are our main business. This means we eat, drink and breathe photo booth, bringing you exceptional service and photo clarity above the rest! Since our humble beginnings at the start of 2015, we have served hundreds of corporate events, weddings, community events and school events. We are one of the most credible and established photo booth specialists in Singapore, with stellar reviews on Facebook and Google! Seeing is believing. We can't delete, edit or hide reviews, so it's the real deal. Head over there to read them yourself!
Contact us today for more information on our photo booth prices and photo booth rental in Singapore!