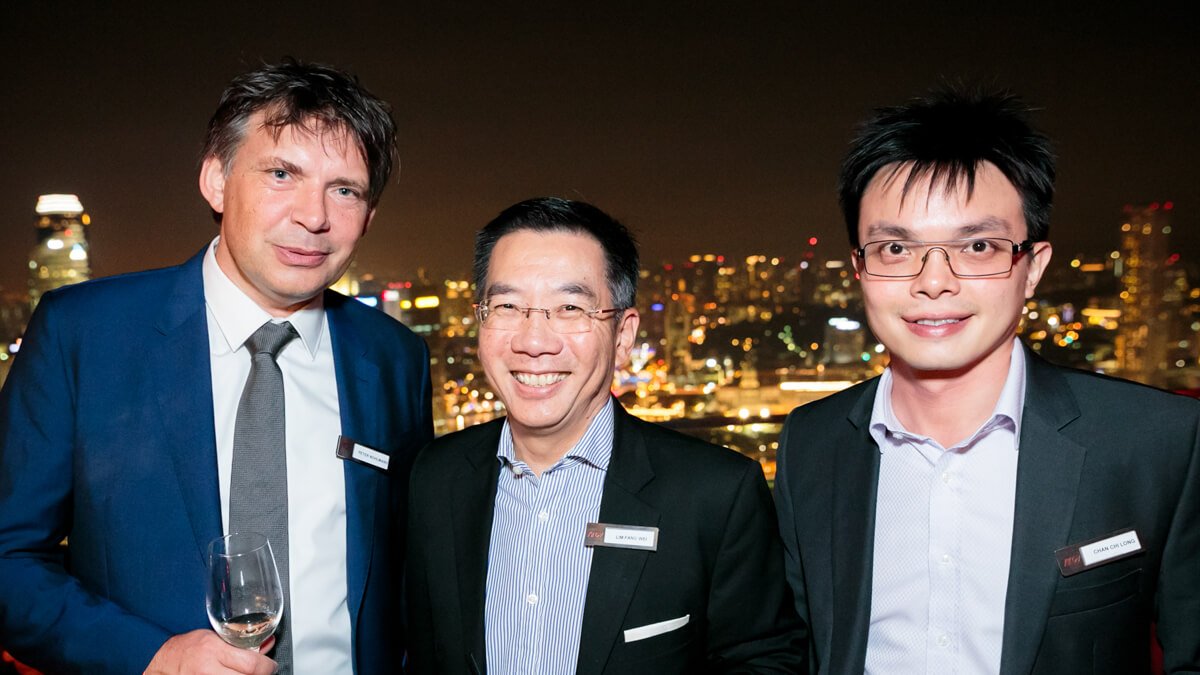 Corporate events range from product launches and road shows to department functions and company annual dinners. Regardless of event type and scale, Cloud Booth offers a plethora of instant print and photography services including photo booth, hashtag printing and roving photography to meet your event's photography needs.
Take some time and browse these services below. Contact us and let us know which of these you are interested in having at your company's event, and we will be able to advise you regarding suitability and also provide a quotation.
Loyalty and Bundle Discounts
If you are hiring multiple Cloud Booth services with instant prints for a single event, you enjoy attractive bundle rates.
If your company/ organisation is a returning customer of Cloud Booth, you enjoy a loyalty discount of up to 20% !
If you're an events planner, you enjoy the same loyalty discounts for returning to us.
So contact us for a quotation today and learn more about our corporate loyalty scheme!
Our Esteemed Corporate Clients Include: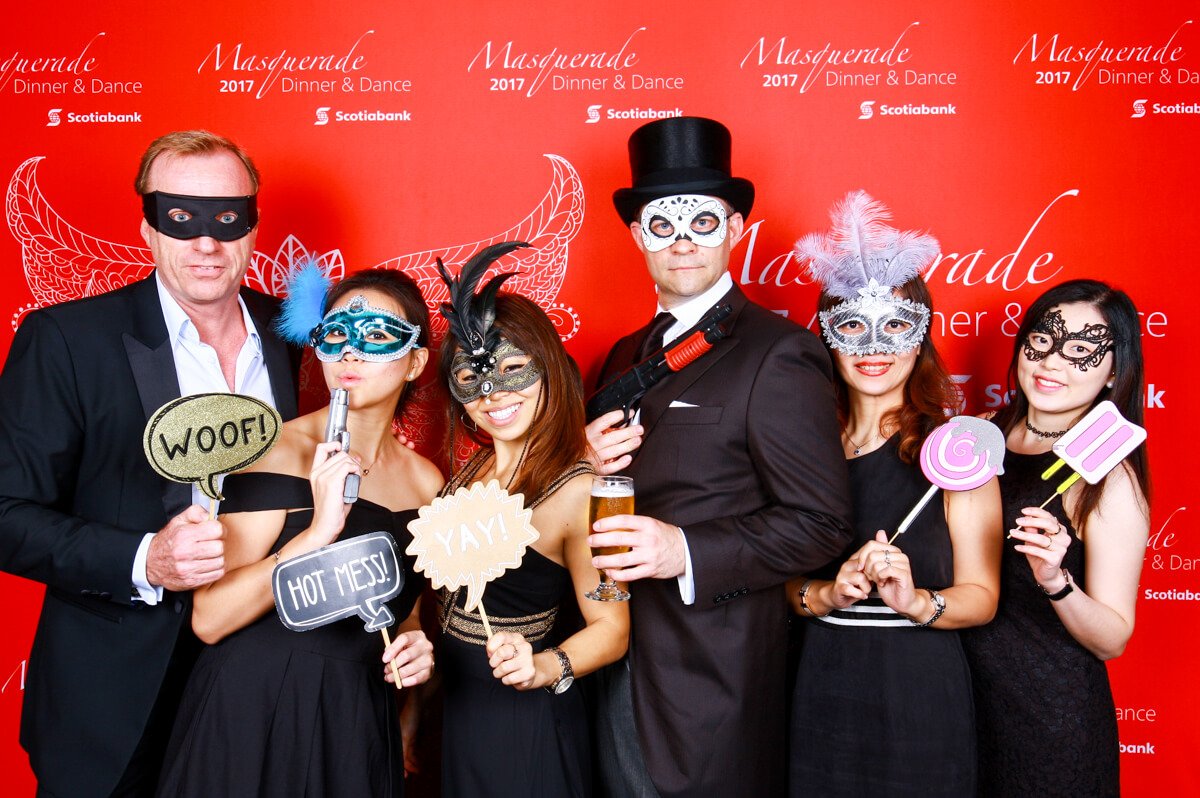 Cloud Booth's Finest Photo Booths are great at corporate events because they serve as both an effective entertainment feature for guests and an effective way to increase brand awareness and drive social media engagement.  Singaporeans, young and old, love having their photos taken at our photo booths. With a huge selection of wacky fun props and instant, high clarity photo printouts they can bring home, guests are sure to have a memorable time at your company event.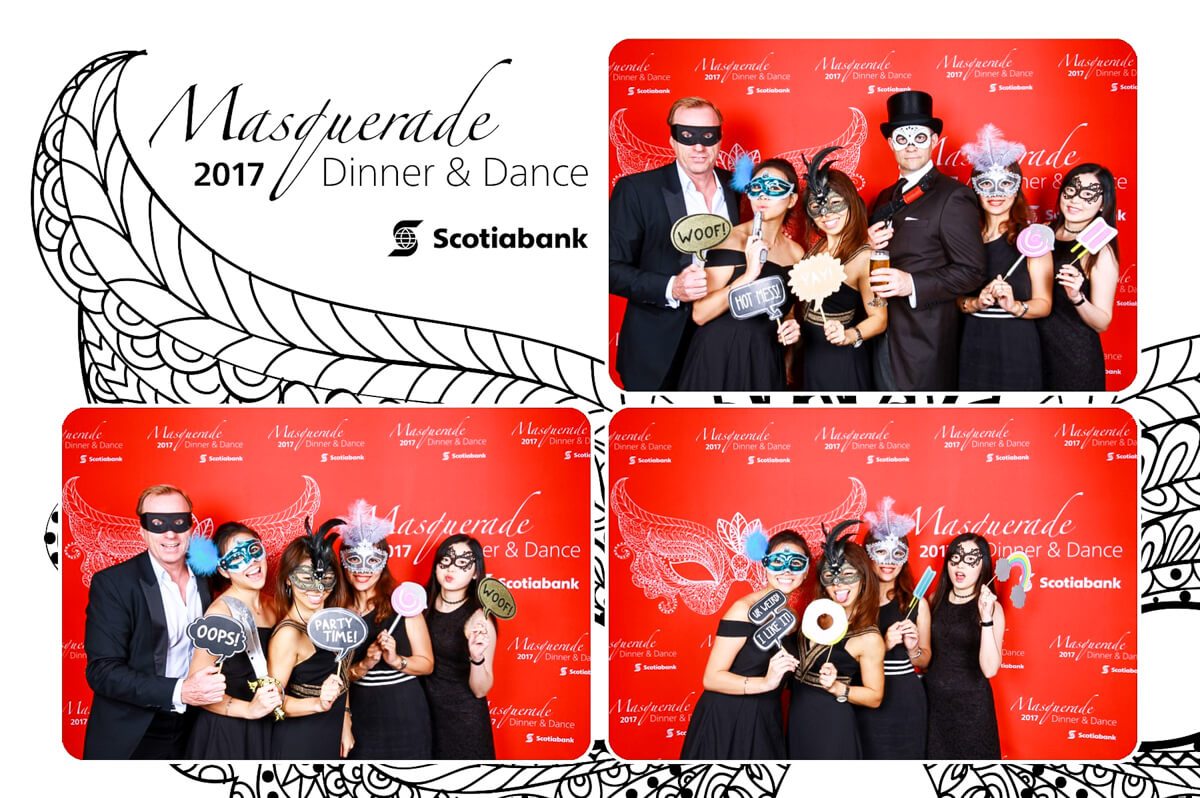 Cloud Booth's photo booth packages also include a fully customisable print template design, which means your organisation's logo, any artwork and any text can be included on each printout. As a bonus, all our photo booth packages come with complimentary instant uploading of photos onto Facebook, which drives social media engagement for your event. These make our photo booth packages a powerful and cost effective marketing tool.
We have 2 lines of photo booth service - 1) The Finest Photo Booth 2) Delite, each catering to corporate events of different scales.
Cloud Booth - The Finest Photo Booth, is our flasgship line that is tailored for large scale, important and high budget events. Packages feature a twin studio light set up for the wow-factor; fully customisable print template overlay design; and an integrated Instagram hashtag printing function. Is your event an annual company D&D with over 250 guests? Is it an important big scale product launch with press coverage and influencers attending? Are you expecting the regional or global company directors/ heads to be attending your event? Are you expecting the President, ministers or MPs to be attending your event? If your answer is yes to any of these questions, The Finest Photo Booth is the perfect choice.
Cloud Booth Delite is our line of no-frills photo booth that has retained the core features of our flagship photo booths, and designed with packages that are customisable - with the option to remove features that we do not need to reduce cost. This means you only pay for what you need. This line is popular with all kinds of company events because of it's flexibility in catering to different needs and budgets.
The Finest Photo Booth Price starts from $899
Delite Price starts from $549
Read more about our Finest Photo Booths and Delite Photo Booths
See more animated GIFs in action here
If you like the superb clarity prints and True-Studio photo taking experience our Photo Booths offer, and you are thinking of ways to make it even more fun and memorable for guests, then Cloud Booth GIF might just be what your corporate event needs! Our GIF Booths have 3 modes for guests to choose from - 1) Boomerang, 2) animated GIF and 3) Photo. This means you cater to guests of all age groups with varying preferences! Younger groups can enjoy action filled fun in Boomerang and animated GIF modes and instantly download them for sharing. Senior and esteemed VIPs who mostly prefer a more conventional photo taking experience can choose the Photo mode and have high clarity prints to keep!
Did you know that organic Facebook and Instagram engagement is highest on posts and stories with videos? Our GIF Booths generate both Boomerangs and animated GIF clips in .mp4 video format, further boosting your company event's social media engagement as guests share their own video clips on their accounts.
On top of this, all Boomerangs and GIF clips and all photo prints come with a custom print template overlay with your organisation's logo, and any text and other branding details you specify!
Price starts from $799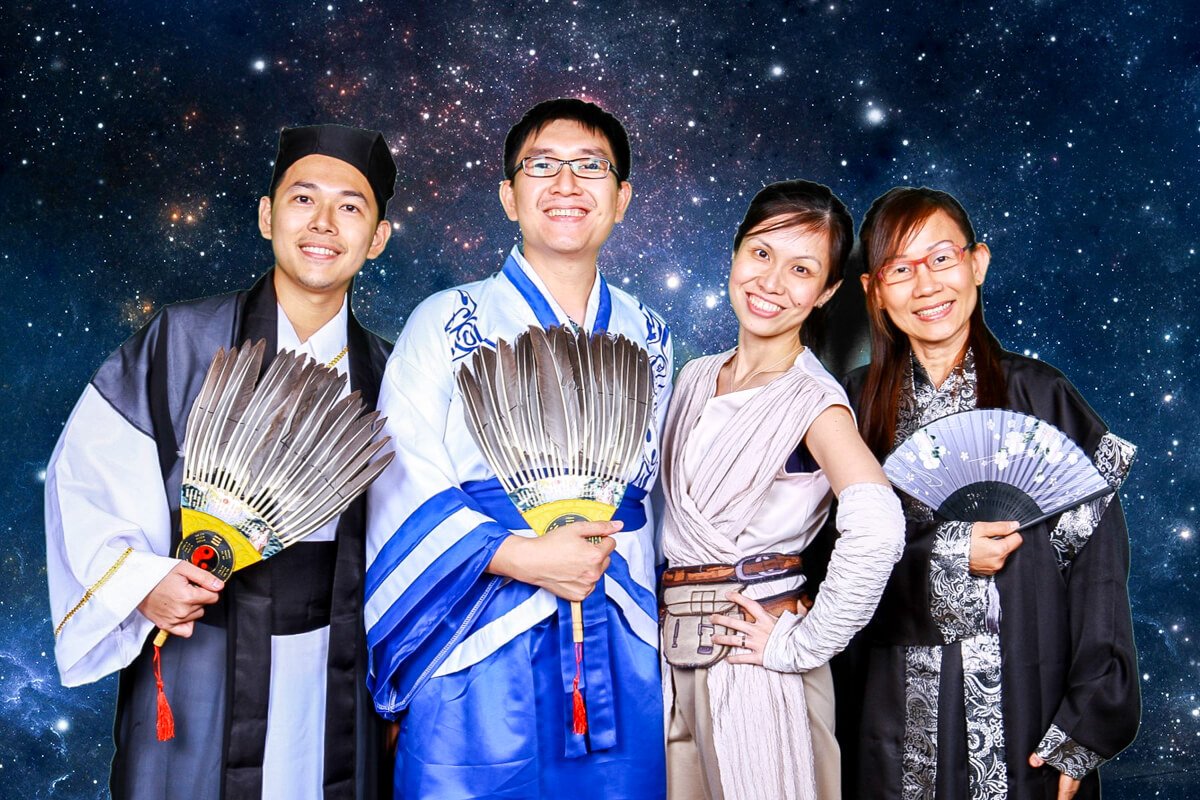 Cloud Booth Green Screen Edition is one of our more popular photo booth services with corporate clients. Everything about our Green Screen Photo Booths is the same as our Delite Photo Booths, except that the backdrop is a chromakey green screen. With this green screen as the backdrop, you are free to choose any digital images to be superimposed onto it. Our powerful Green Screen Photo Booth software also allows guests to choose from not just 1, but multiple backdrops! This is ideal for corporate events with a fantasy theme or those that would do well with fantasy backdrops. The sky's the limit!
At the core of the service, the same True Studio set up is employed, so guests enjoy photos and printouts of superb clarity. All photos can also be shared online immediately, retaining the full benefits of driving social media engagement.
Price starts from $549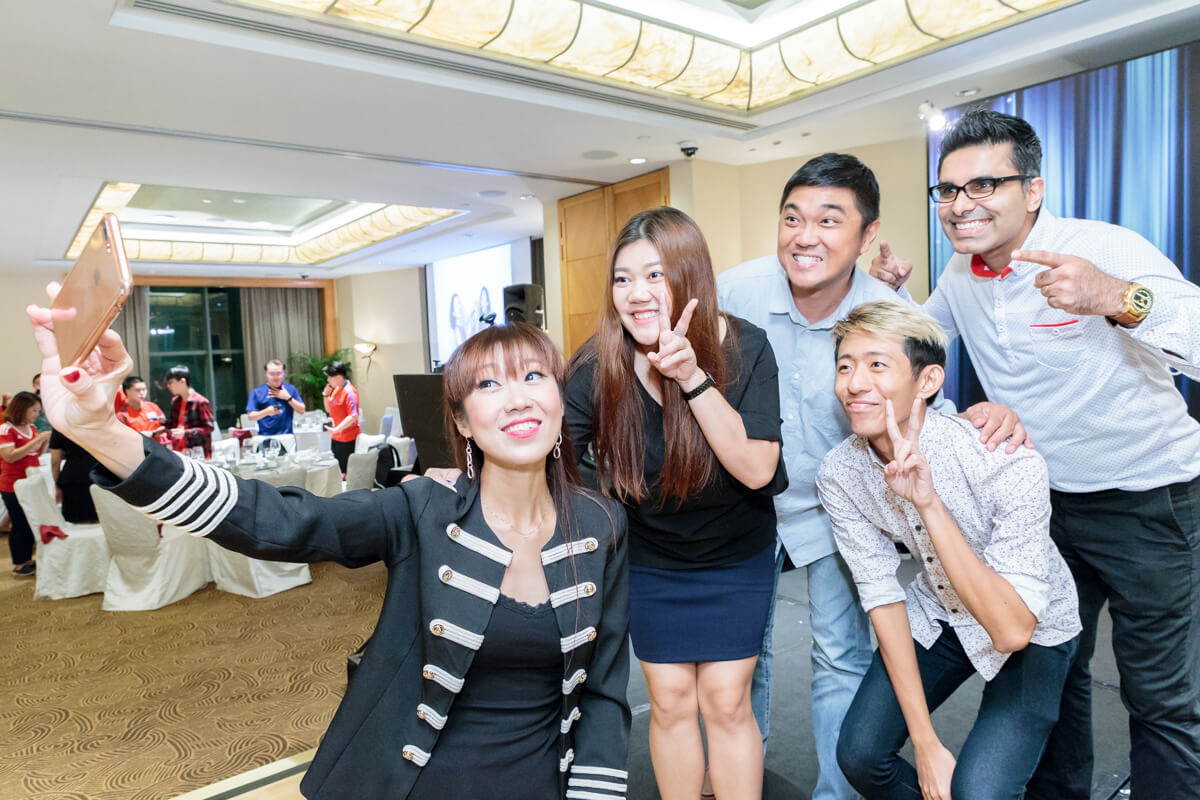 Instagram has become one of the most used social media platform in Singapore, and Hashtag Printing leverages on it to supercharge social media engagement for your organisation's event. Cloud Booth #HashPrint encourages guests to take photos at your event by bestowing upon them the freedom and flexibility of taking photos with their own phones and then printing selected ones that they have posted on Instagram.
It is an effortless and effective way of gathering a collection of photos taken by hundreds of guests from all angles and perspectives at various corners of your event venue! Additionally, since in order to print their photos at our Hashtag Printing station, guests must post their photos on Instagram and hashtag it with the event hashtag you specify, this motivates guests to engage with your event on Instagram.
Price starts from $549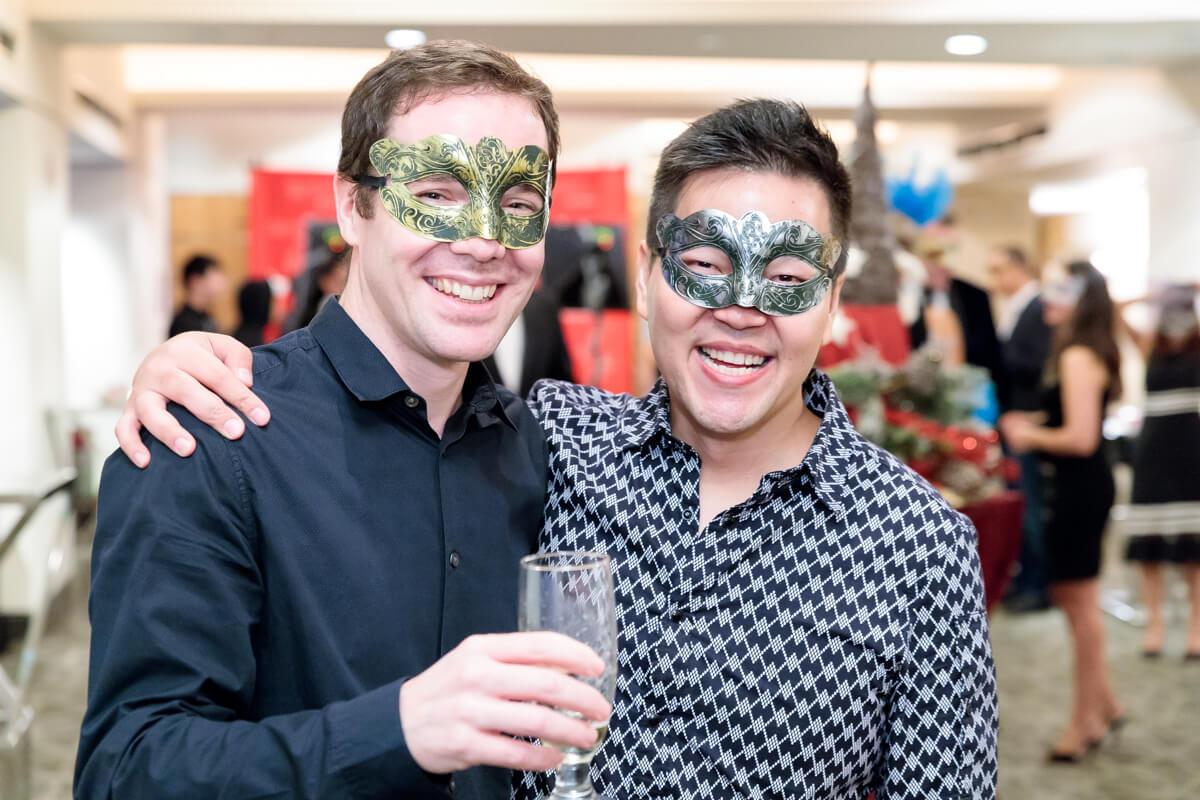 Cloud Booth Roving Photography is ideal at more formal corporate events when high clarity instant prints are needed, but a more conventional and formal photo taking experience is preferred. Our photographer walks around your event venue, takes photos of guests, and prints them onsite for them to take home.
Superb photo quality can be expected because at Cloud Booth, the photographers we assign for Roving Photography are the same highly experienced event photographers we assign for big events.
Similar to our photo booths, a fully customisable print template layout with your organisation's logo and other text and artwork can be applied to all photo printouts. All photos taken can also be shared on Facebook instantly and automatically, making this an equally effective marketing tool.
Price starts from $699
Props for Corporate Photo Booths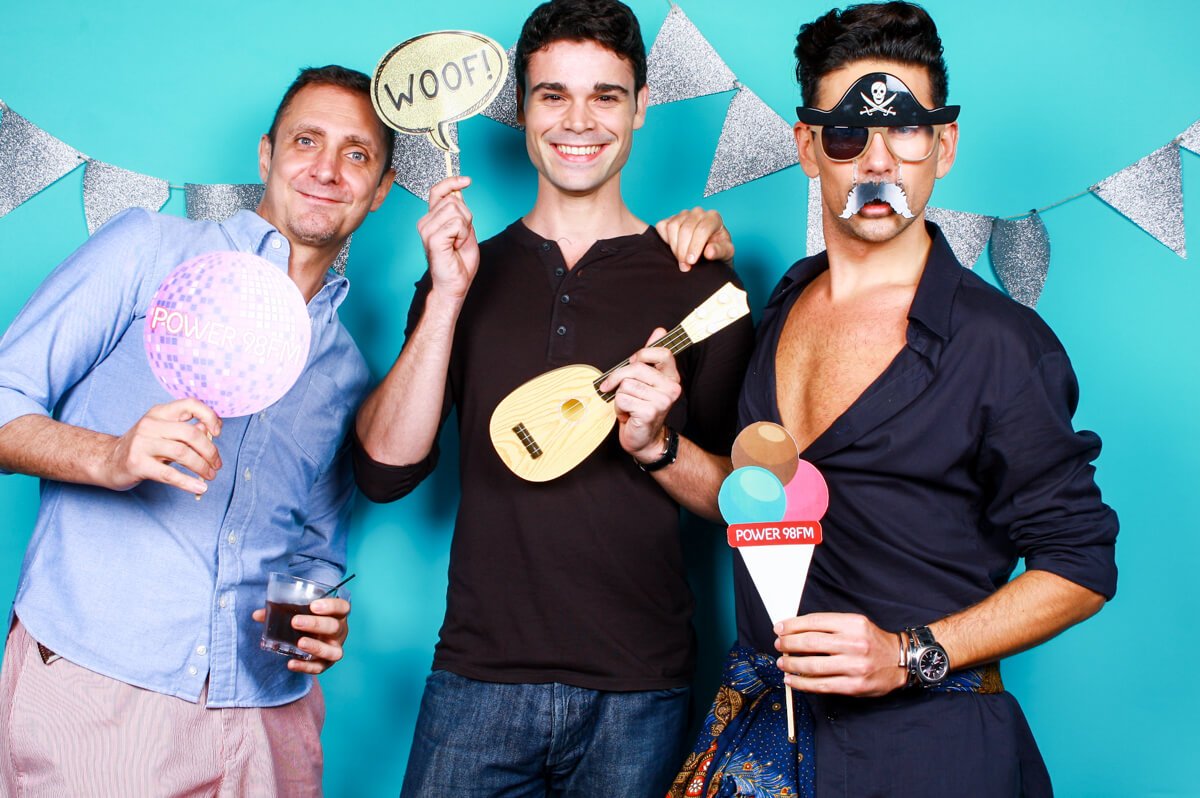 A variety of fun and wacky party props are provided for hours of creative fun - the kind that creates a lasting impression! Additionally, for the weeks leading up to Halloween and Christmas, we augment our inventory with festive props that add to the festive feels!
If there is a specific theme to your company's event, and you would love to have props related to the theme, Cloud Booth can design and custom make a set of props for you as an add-on service!
These are available with Photo Booth, GIF Booth & Green Screen Photo Booth services.
Custom Photo Booth Backdrop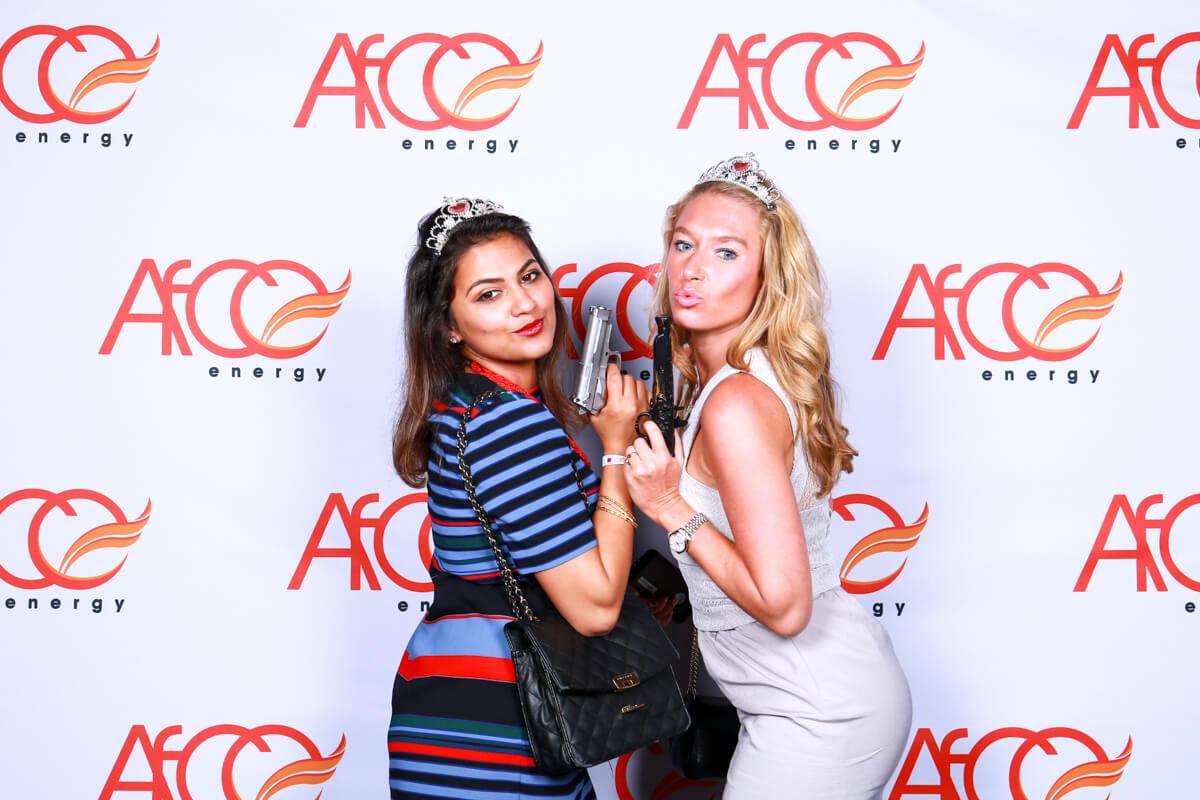 All Photo Booth, GIF Booth and Green Screen Photo Booth packages include the free use of 1 of our gorgeous backdrops. However, if your company event requires the special touch, or needs to have your organisation's logo or product branding on the backdrop, we can help you with this. As an add-on, Cloud Booth can design a bespoke backdrop for your event, and also have it printed for your team's convenience.
Not all backdrops are equal, the material used makes a big difference to how photos turn out. We offer 2 backdrop materials, PVC or Fabric, that cater to different budgets and usage: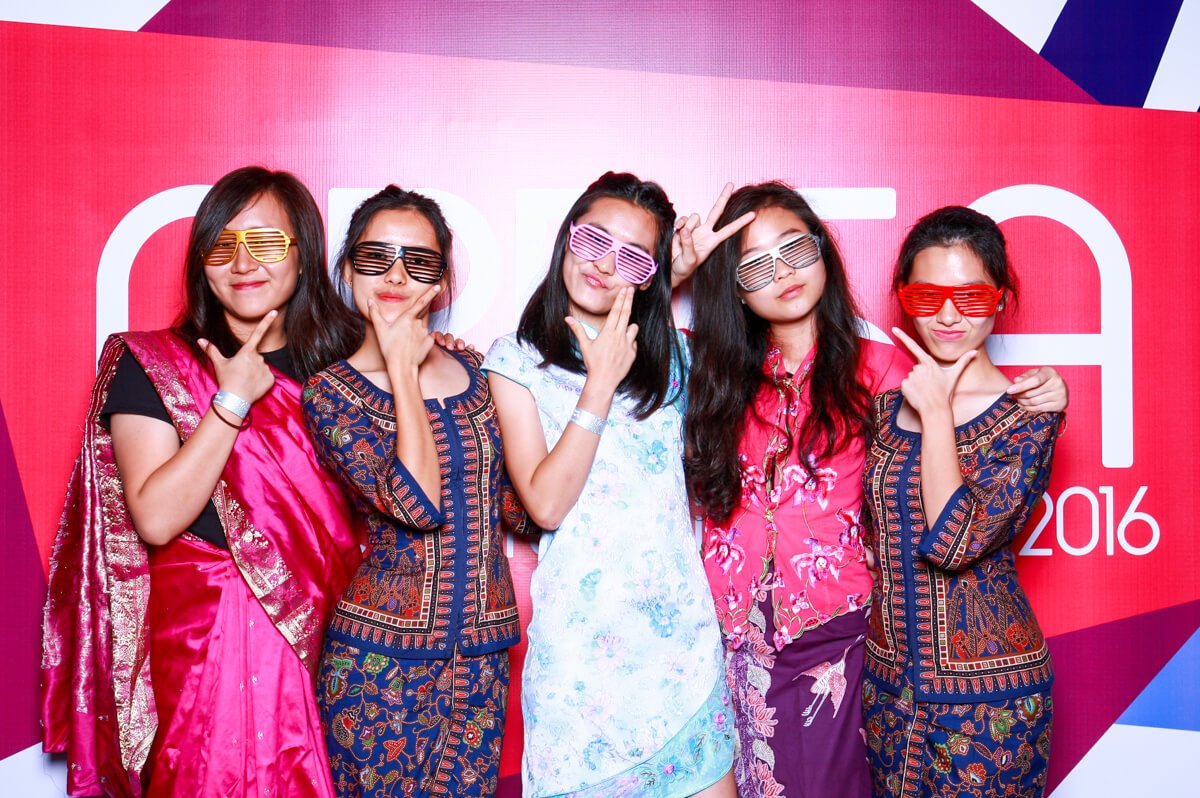 PVC Backdrop
PVC backdrops cost the least and are the most popular kind of backdrops used in all kinds of events. However, they are easily wrinkled if not stored and transported properly, and these wrinkles can neither be removed easily nor completely. Being almost 3m wide and 2m tall, they are not easy to transport or store.
Also, they are susceptible to glare when a flashlight is used. The photo above shows an example of glare in the center of the photo.
This said, it is a great low cost option if the backdrop is meant to be used with services that do not have the need for flashlight usage (e.g. Hashtag Printing where photo taking is done with guests' smart phones) or installed at a photo corner for guests to use as they deem fit.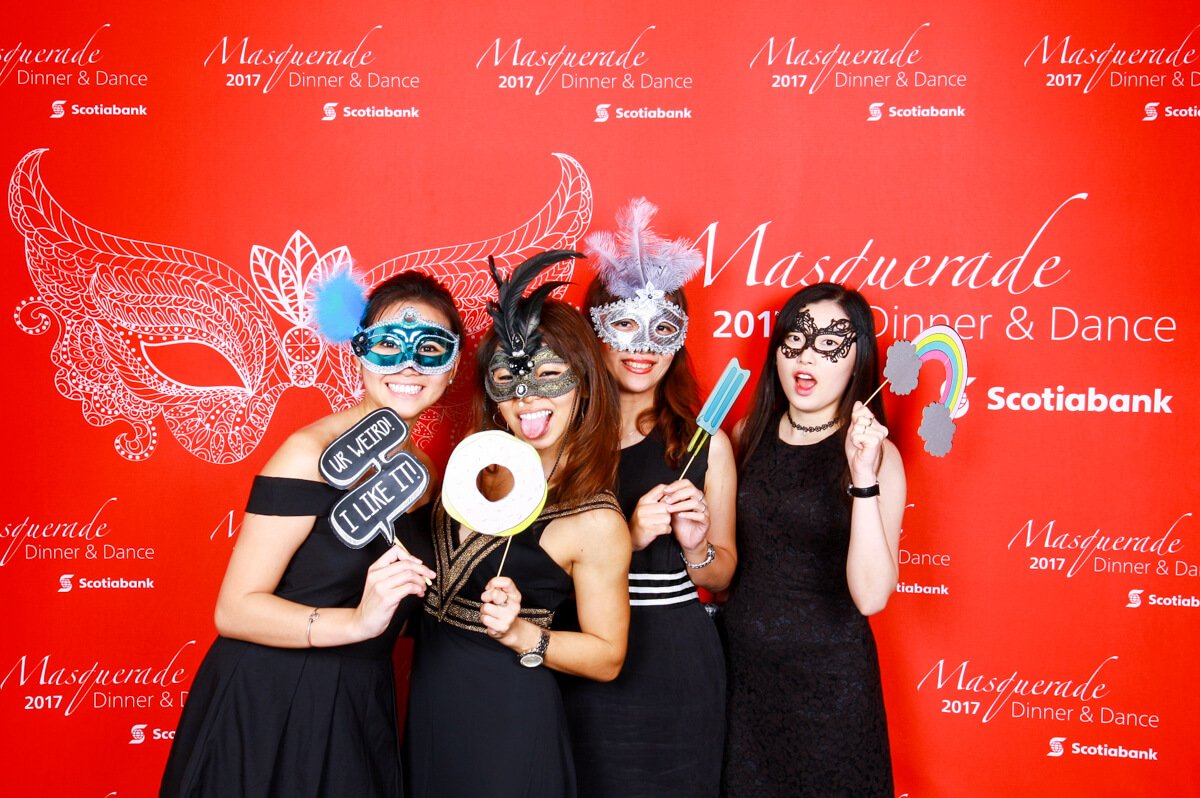 Fabric Backdrop
Fabric backdrops, like this beautiful Scotiabank backdrop above ordered for their annual dinner and dance, do wrinkle, but they can be easily straightened in minutes, allowing a flawless backdrop when mounted on a frame. They are also foldable, washable and durable, which make them reusable for future company events.
Fabric backdrops are brighter and more vibrant in color than vinyl backdrops. More importantly, they are much less reflective than PVC backdrops and will cause little to no glare in photos.
The catch? They cost more than PVC backdrops. But they are well worth the money.
Interested in a custom backdrop for your photo booths or hashtag printing service? Contact us today to learn more and request for a quotation!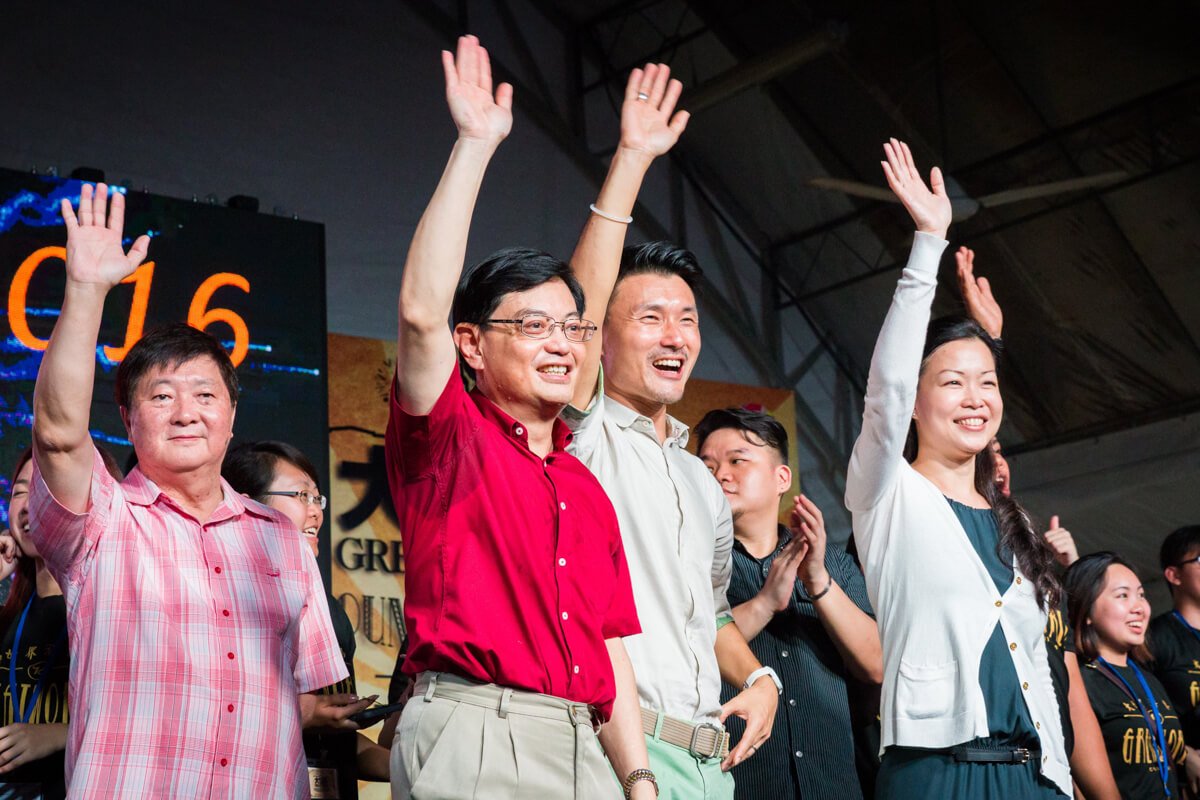 Cloud Booth Event Photography is ideal for corporate events, community events and school. Our experienced photographers, who have shot at major events with ministers and MPs, skilfully capture key moments with DSLR camera systems and professional lighting, producing pictures that look stunning on your organisation's website, social media and in publications!
Companies hiring our Photo Booth and other instant print services often hire our Event Photography services as a package to enjoy great convenience and attractive bundle rates. So contact us today for a quotation based on your organisation's event needs!