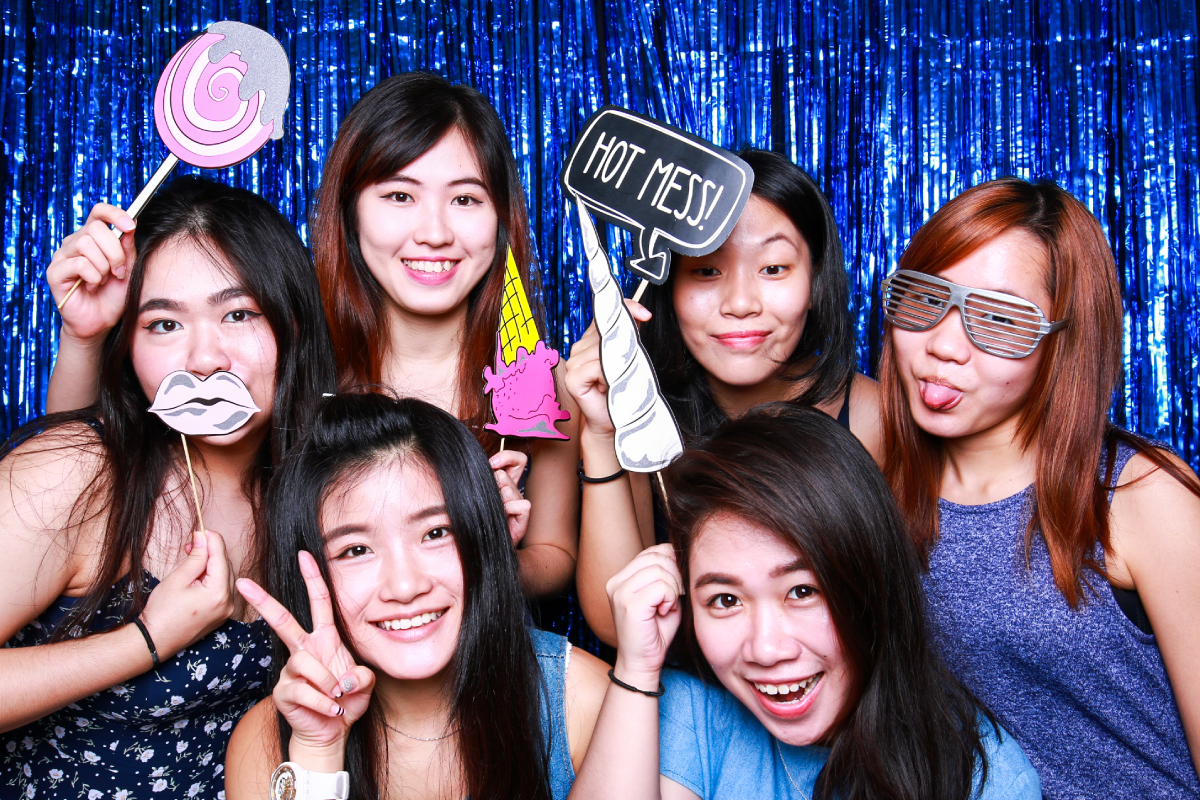 These days, you'll rarely find a huge event without a photo booth simply because people are drawn to it. Instant photo booths are an incredible form of event entertainment, as they typically provide a variety of props, such as masks, wigs, and signs that make attendees laugh. Due to the fun and excitement that they bring, photo booths have become an essential attraction across many occasions like birthdays and weddings.
If you're attending an event and see a photo booth, the first thing you'd probably want to do is to grab your friends so that you can take beautiful photos together. And part of the excitement of using a photo booth is maximising the fun by trying out all kinds of poses! While we have previously shared five adorable poses to make the most out of your photo booth experience, here are even more fun and creative poses you should definitely try! 
1. Coordinated expressions 
One of the most popular ideas for a photo booth pose is for two or more people to hold the same facial expression for the picture. For instance, you and your friends could make the same wide-mouthed smile or have the same 'thinking seriously' pose for the photo. Having coordinated facial expressions usually look good for photo booth photos taken in groups.
2. Pose with a prop
Photo booths in Singapore usually come with many different props. The colourful pairs of glasses, various head gear, or speech bubbles on sticks are simple photo booth props that can make your pictures a lot more fun and quirkier. However, when using props to help create an enjoyable photo, it's best to use a minimal number of props and instead bring a lot of personality to get the perfect pose.
3. Utilise silly dance moves
Half-body or 3/4 photos are possible with some photo booths, which can lead to some fantastic poses. For instance, you can choose any part from your favourite dance move and freeze in preparation for a great picture. If there's a specific dance scene from your favourite film that you want to try, then you may re-enact it in front of the camera. 
4. Pose like a model
Striking a model pose is a great way to show off the attire and makeup you have dedicated hours putting on. When you hop into the photo booth, don't be shy to flaunt all Victoria's Secret model poses you have been practising in front of the mirror! This is a great time to be confident and pretend like you're having your glamour shot taken – to get in the mood, it would help if you imagine a scenario where you're a model at the end of the runway or a celebrity posing for paparazzi shots at the Grammys.
5. The classic: A kiss on the cheek
The classic 'kiss on the cheek' pose is not limited to any specific number of individuals, making it an excellent go-to pose for anyone who can't think of one. It can be done by couples, where one gives the other a kiss on the cheek, or even in a group of five people, where one – or two, with the person like the bride being 'kissed' in the middle – can give another a flying kiss on the cheek. To make this pose more memorable, the person getting kissed should give a quirky facial expression at the same time.
Conclusion
There are plenty of fun and creative poses you can try for your photo booth pictures. Whether you're getting a solo shot or taking photos with your family and friends, it's important that you strike your best poses so that your pictures will look great. Always let your creativity and personality stand out when posing for a photo booth camera!
If you're looking for the most reliable photo booth rental in Singapore, look no further than Cloud Booth! We provide our clients with the best photo booth experience featuring an excellent studio-style setup with high clarity and unlimited prints that only take seconds to complete. Aside from our photo booth rentals, we offer great event and roving photography services at reasonable rates. Don't hesitate to contact us today to learn more about our services.