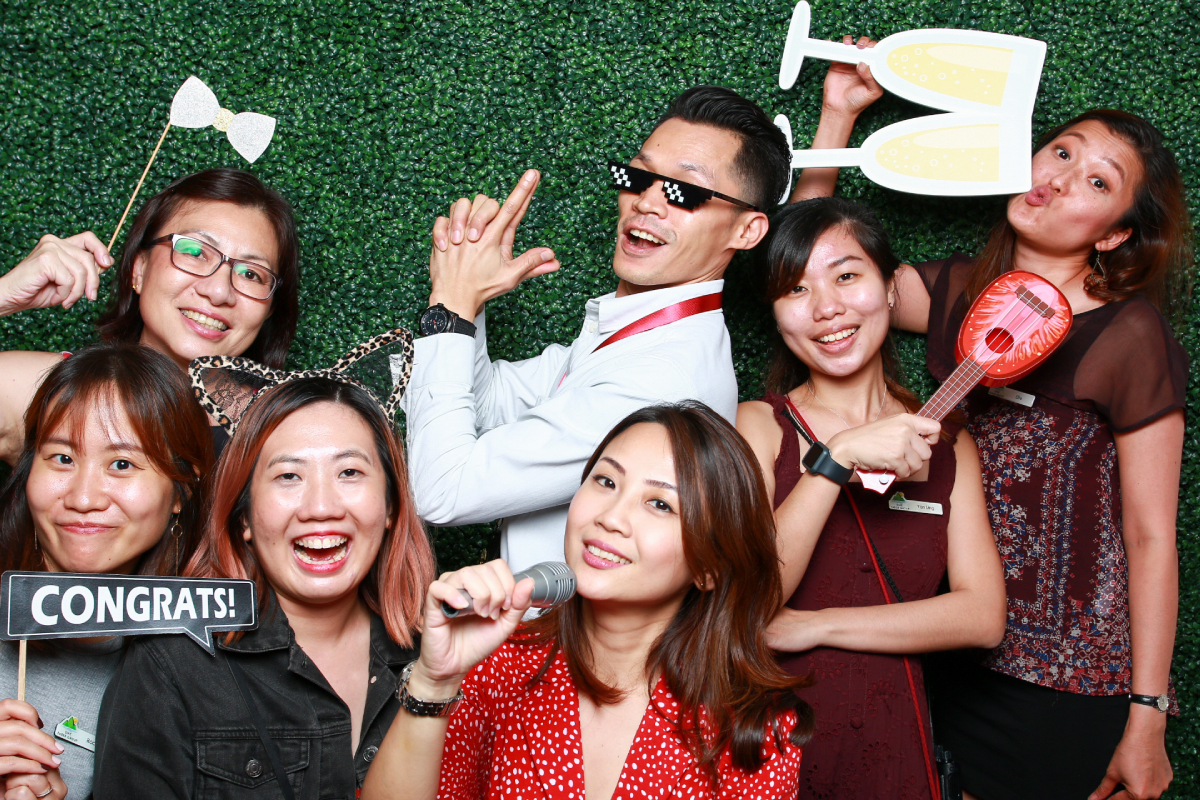 As a refresher, brand activation is an interactive and immersive experience for consumers to know more about a brand, its mission, products, and services. It is generally used for new product launches, company rebranding, and re-engaging with target audiences. Moreover, brand activation is more than a simple party as there are no hard and fast rules on what type of event it can be; it could be a temporary instalment at one's place of business, a cross-country experience, or a one-night occasion.
A successful brand activation requires not just a party planner but also brand experts, designers of all kinds, and a marketing team that handles the advertising and keeps the experience going until the end. Of course, recording everything in the event is a no-brainer, and this is where the photo booth comes in. Learn more about the benefits of having a photo booth in your brand activation and how it can elevate the guest experience!
1. Gives attendees something to remember you by
Given the large investment behind a brand activation, you'd naturally want people to remember it for quite a while and not forget about it the next day. Think of it as a "proof, or it didn't happen" type of thing. By having a photo booth, guests can have their personal keepsakes to show off to their circle and remember your event and brand for days or weeks to come.
By engaging with a professional photo booth rental in Singapore, you can be sure you're checking all the boxes for a premier photo booth-ing experience: studio-level equipment for high-clarity images, expert onsite support, custom event-themed props and print templates, instant online sharing, fast and unlimited prints, and so much more. If the services provider allows for it, don't forget to come up with a custom hashtag for the event, and you'll have an excellent, lasting brand memory on various social media sites!
2. Adds to the overall experience
If you've tried a photo booth before, you already know how great it is at keeping people entertained. Have a variety of props and backdrops available (such as a green screen for the latter), and you'll have guests lining up to get their turn to take Instagrammable pics of your event! Having a photo booth gives guests a chance to preoccupy themselves during the breaks between programmes and ensures there's not one dull moment that sours their experience. As such, it's best to think of photo booths as more than just for taking pictures but a fine addition to your event's experience. Create custom props, make backgrounds that wow your guests, and design a set piece that creates an unforgettable scene.
3. Physical prints are an easy event giveaway
One great idea to get more out of your photo booth is making their physical prints exclusively part of the swag for your brand activation. Photo booth providers typically include bespoke print template designs in their package, which you can customise with your own branded frame. Alternatively, you could package the pictures in paper picture frames or photo folders to create a long-lasting experience from the branding potential of these giveaways. Make sure that the photo booth service you choose has a quick turnaround time (ideally just seconds to get a print) and unlimited printing, given the number of guests to be served.
Conclusion
Regardless of how jam-packed with activities your brand activation is, there's sure to be enough room to accommodate a photo booth as the cherry on top! A photo booth allows guests to capture official souvenirs of their participation in your event and keeps them talking about your brand for longer, making it a worthwhile investment.
Cloud Booth offers the best photo booth experience in Singapore, featuring a true studio-style setup with unlimited, superb-clarity prints that only take seconds to get into your hands. Apart from our range of photo booth experiences for every budget, we also provide event photography and roving photography services that capture every angle and candid moment of your event. For more information about our services, don't hesitate to reach out to us today!