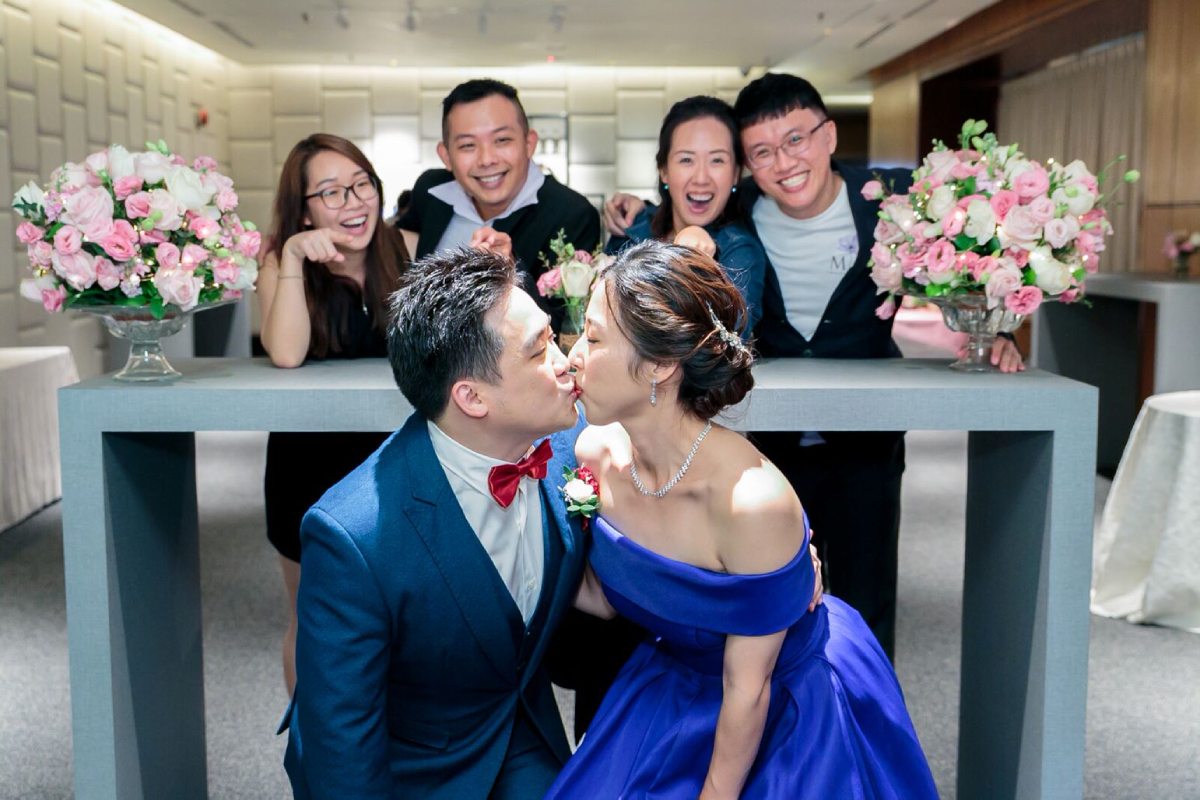 Weddings are a big milestone and a very special day in a couple's life. As such, it's natural to put careful thought and extra attention into everything for the big day. One such element not to be neglected is the wedding favours, the ages-long tradition of giving small gifts to guests symbolising the newlywed's appreciation and gratitude for being part of their momentous day. Seeing how important these mementoes are, it only makes sense to choose gifts they will enjoy and appreciate for years to come. If you need help deciding, here are a few ideas that will surely bring a smile to their face!
1. Photo booth prints
Since you'll have a wedding photographer take memories of the event, getting a photo booth for the reception is just one step away! Photo booths make for a fine addition to your entertainment options and let guests photograph their own experiences while the event photographer captures their more candid moments. Thus, nothing speaks of personalised gifts better than wedding photo booth prints of the wedding day.
With studio-grade camera equipment and industry-standard features like instant printing, private downloads, and online sharing, guests have many ways to take home the memories of fun and love they've shared at your wedding. Also, it gives them more control over the goodies they take home afterwards.
Custom props, templates, and backdrops help to remind guests whose wedding they were at, and adding the wedding date to the photo booth template puts your anniversary front and centre so they can easily remember to send their well wishes during anniversaries. Just make sure to find the best photo booth provider that meets your budget and needs for the event, as deciding with little research could lead to less-than-stellar service and prints, which can affect the overall guest experience. To do so, simply consider these vital things before engaging a photo booth: budget, venue, photo template and props, and the quality and speed of printing.
2. Embroidered handkerchiefs
Your guests are sure to love a personalised and embroidered handkerchief that they can use to dry the happy tears shed throughout the wedding day and bring them joy and comfort during the sorrowful moments in the future. Moreover, practical, everyday items like a handkerchief will be appreciated for longer than the usual gifts of snacks and candies, and they better remind your loved ones of your wedding day.
3. Wedding flower growing kit
Wedding flowers are part and parcel of the special day, and if your chosen flower is relatively easy to grow, why not give your guests some seeds they can grow at home? This is a great way to bring them back to your wedding day for years to come, as the sight and smell of your wedding flowers remind them of when you became a wedded couple. Thus, if you are planning on having an abundance of flowers for your wedding decor, a growing kit of your wedding flower can make for a thoughtful and special gift that grows with your loved ones.
4. Custom playing cards
Everyone loves a good game of cards! With this gift, you can take the game further by personalising it with your designs. Feel free to incorporate custom images, such as you and your partner, or use illustrations of the reception or wedding ceremony location that make each game a memorable experience.
5. Wedding-themed shot glasses or tea cups
Want something more practical as your wedding favour? Shot glasses with an adorable wedding-themed cartoon can be a good option as wedding favours because they are functional items that guests can use and enjoy. They can also serve as a keepsake of the special day, reminding guests of the happy memories and fun they had at the wedding. Additionally, a wedding-themed cartoon can add a personal and playful touch, making the shot glasses even more unique and special.
Alternatively, tea cups can also do just the trick as wedding favours compared to shot glasses as they may appeal to a wider range of guests and be more suitable for those who don't drink alcohol. Moreover, they offer a different kind of functional item that can be used for enjoying tea or coffee, and can serve as a reminder of the occasion.
Conclusion
When it comes to wedding favours, you can never go wrong with going for a personalised keepsake that bears the details about your special day. Remember that these party favours serve to cement the memory of your big day in the minds of your loved ones, so taking a custom approach ensures they can continue to share in your joy as a married couple.
Looking to try out our first suggestion and have a photo booth for your wedding? Then look no further than Cloud Booth, the experts in all things event photography! We are the trusted name for the best photo booth rental in Singapore, with many options to choose from, including the finest photo booths, GIF booths and more. To learn more about our premier photo booth-ing experience and reliable event photography services, don't hesitate to reach out to us today!