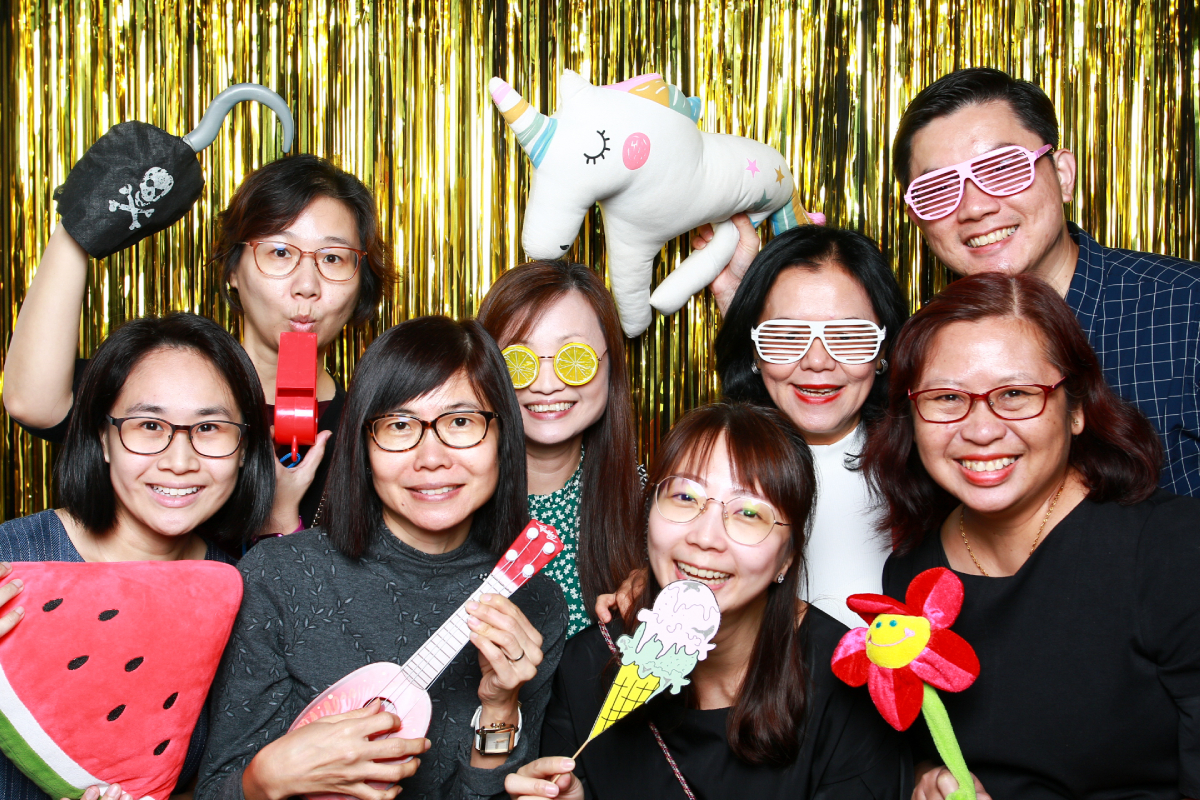 School Alumni Dinners are undoubtedly reunion events that many people look forward to – they make the perfect excuse to catch up with former schoolmates whom you may not have seen for a long time. Furthermore, primary or secondary School Alumni Dinners are excellent for reminiscing beautiful memories of your school days and, at the same time, celebrating the achievements everyone has made through the years. These events also allow you to rekindle friendships, reconnect with old classmates, and make professional connections!
To ensure that everyone has a great time, the aim is to make the event as fun and memorable as possible. And what better way of capturing these moments if not through a time-freezing device?
There are many events for which you can arrange a good photo booth. That said, it's definitely among the many things you can incorporate to make your School Alumni Dinner a delightful one! Photo booths are one way to entertain all attendees. Indeed, everyone is bound to enjoy taking pictures with their batchmates, especially with all the fun props they can use.
If you are looking for ways to make your School Alumni Dinner a blast, here are three photo booth ideas and themes to consider;
1. Nostalgia
Nostalgia is bittersweet – this is why reunions are always centred around reminiscing the yesteryears. With that, you can create a photo booth that will take you and your ex-schoolmates on a magical trip down memory lane. For starters, you can have props that match the aesthetics of the years you were in school. Whether it be the retro 1980s vibes or prom king and queen sashes to recreate prom night, anything is possible with a bit of creativity!
2. Recreating memorable moments
Nothing screams 'nostalgia' more than recreating precious moments from your school days. This could be in the form of photos ranging from selfies with your best friends in school uniform to even class photos! In order to recreate these images, it would be good to include your past school uniforms as costumes so that everyone can have a whale of a time recreating those fond memories and have them be as close as possible to the actual throwback picture.
3. Scavenger hunt
If everyone is up for an exciting game, then a photo booth theme in the form of a scavenger hunt might do the trick! To begin the scavenger hunt, those interested in playing can be given specific instructions on who to take a picture with. Some fun examples would be the class clown, prom king and queen, a batchmate with a PhD, or even secondary school sweethearts who got married! While participants might have to scour the entire venue to search for their friends, it is a great game that encourages people to socialise throughout the event.
Conclusion
The rising popularity of photo booths in Singapore and beyond is primarily due to their unparalleled value in immortalising events and capturing memories. As such, it is definitely one of the best forms of entertainment you can have for your School Alumni Dinner that everyone will be sure to enjoy.
If you are seeking the most extensive and fun photo booth to rent for your event, Cloud Booth is all you need! As a reputable photo booth and event photography company in Singapore, we offer a variety of photo booth and event photography solutions for occasions ranging from weddings to corporate events. Get in touch with us today to learn more!