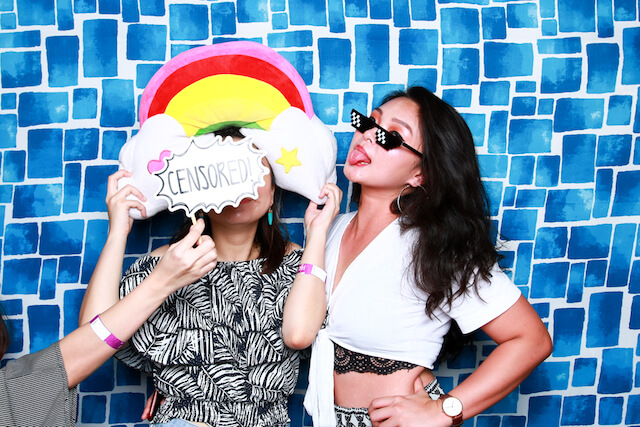 Great photos are not easy to take. That is why many people hire professional photography services for their most important photographs, like their wedding photo or their family portrait. An excellent photo takes a lot of skill, knowledge and planning to capture. A truly spectacular photography service is the effort of years of experience, coupled with an innate flair for visual aesthetics.
With Cloud Booth's photo booths, we bring the studio experience to your event or wedding. Our team of expert photographers, armed with professional studio-grade equipment will ensure that every picture taken is picture-perfect. Here are five methods we use to ensure the most stunning photo quality at every event.
1. A high-quality DSLR camera on a sturdy tripod stand
It all starts with a high-quality DSLR camera that shoots High Definition photos every time. Our cameras are equipped with top of the line Canon L lenses & Carl Zeiss lenses to ensure every detail is captured to the T. The camera is attached to a sturdy tripod stand that will ensure all photos taken are balanced and consistent.
2. Twin studio lights to ensure guests are well-lit from every angle
With our studio lights from Swiss brand Elinchrom, ugly shadows are erased from our photo booths. Guests are certain to be well-lit, no matter where they stand in the photo booth or how many people are in the frame. The bright and beautiful color balanced lights will also ensure that the photograph comes out with the perfect colour. These lights are what delivers the studio-quality experience.
3. A highly experienced cameraman and assistant
With photography, experience really matters. A perfect photograph is generally not possible without years of experience under a cameraman's belt. At each instant photo booth, the cameraman operating the camera has a few years of experience in photography. This means that he is able to quickly discern any issues with the equipment and photographs and immediately rectify them. Our photo booth also comes with an assistant who can help tend to guests' queries and assist them with the collection of their prints.
4. A fun and interactive experience for guests
A photo booth is only enjoyable because it's fun! A fun photo booth is certain to put a genuine and authentic smile on guests' faces, making for a more perfect photo. Our photo booths are filled with fun options for guests, including whacky props and a stunning backdrop to get guests in the mood. Guests also have the option of posing in interesting positions with their friends. This way, an instant photo booth becomes more than just a photo-taking spot; it becomes another exciting activity for guests to enjoy.
5. A crystal clear high-speed printer
Finally, a high-speed printer completes the entire fuss-free experience. Guests can look forward to receiving their prints about a minute after their photos are taken. Our printer also prints on high quality glossy 4R photo paper, perfect for any kind of photograph.
Conclusion
With these five tricks, our photo booth is sure to deliver photographs of impeccable quality to all your guests.
For more information, email us at cloudbooth@seankohphotography.com.