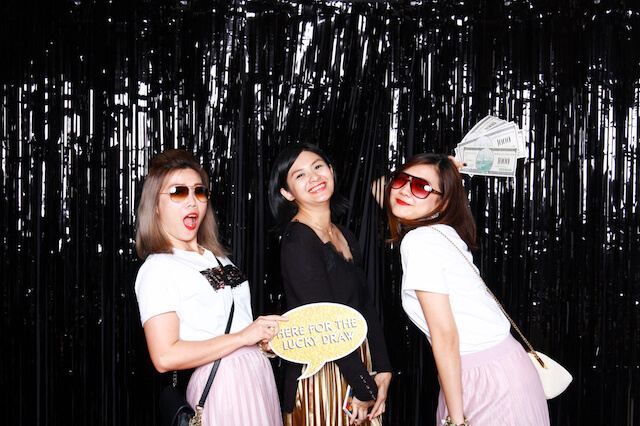 If you are organising an event or planning a wedding, you may find yourself asking the question: "Do I want to include a photo booth in Singapore? Renting a photo booth means that guests have the option to take special commemorative photos to remember the event by. The photos would also be printed out for them to bring home, as a gift from the hosts. Though this in itself is a is a good reason to rent a photo booth, there are also other reasons for a photo booth. This article will showcase three ways in which photo booths subtly bring out the best in your event guests.
1. Photo booths get guests involved and talking
A photo booth is a great talking point, especially when guests are mingling and waiting at an event's reception area. Having a physical setup allows guests to jio their friends to take a nice photo together, bringing friendship and kinship to the next level. By using a photo booth to take a photo together, guests will bond, even without the the host being there. Besides serving as a talking point for guests on the day of the event itself, the photo booth will also produce a keepsake for future conversations to come. Whether it's a prom night, a wedding or a company D&D, the photo will certainly hold a place close to your guests' hearts.
2. Photo booths are all-inclusive
Some activities at an event may not be inclusive for all profiles of guests. Activities that require movement may not be well-liked by elderly people or those with mobility issues, while small talk is unlikely to satisfy energetic young children. A photo booth is one activity that ensures everyone can get involved – regardless of age, gender or tech savviness. With the best photo booth, even Ah Ma who might not be able to handle her own camera phone can step up and take a beautiful photo. Photo booths are especially popular for inter-generational family pictures, especially at weddings. Special occasions will bring a family together and photo booths are perfect for capturing those special moments.
3. Photo booths are fun and spontaneous
Nothing signals celebration as much as a photo booth does. With its huge variety of props, a beautiful set backdrop and friendly staff, a photo booth is a free and open space to take any type of photo – beautiful or experimental! Guests simply need to step in to be whisked away into a whole different universe. Would their photo turn into a James Bond-esque spy fantasy? Or will it translate to their romantic vision of an Alice in Wonderland-style wedding? It is all up to their creativity. With photo booths, guests have the opportunity to be whoever they want – it's all up to them and their spontaneity! It's the perfect activity, especially for a fun bunch of guests!
Conclusion
Photo booths are an excellent way to liven up the mood in any event, making the atmosphere cozy and fun! Best of all, photo booths are inclusive, perfect for all guests. For enquiries on renting a photo booth in Singapore, contact cloudbooth@seankohphotography.com.