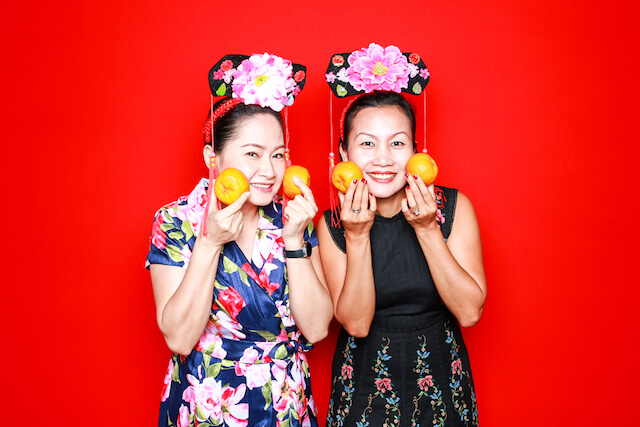 Have you ever been to a wedding where there is a photo booth in Singapore? Many Singaporean weddings have been incorporating a commemorative photo booth as a part of their celebrations. These photo booths give guests an opportunity to take a photo with their loved ones and receive a printout within the short waiting time of only one minute! But sometimes, as a guest, you are unsure of how to pose for a photo at the photo booth. We have compiled a list of five extremely adorable poses, perfect for the next time you need inspiration at a photo booth!
1. Do a Dab!
Popularised in the mid-to-late 2010s, the dab is a dance move in which someone drops their head into the bent corner of a slanted, upward-angled arm while raising the other arm out straight in parallel to the other arm. It is considered a symbol of victory, triumph and playfulness, though some may see it as a fad. The dab is best done together as a group, as the angles of the arms come together to create a beautiful pattern of lines. Don't be shy if you ever want to dab in front of the photo booth!
2. The Human Heart
Want a pose that will show the symbol for true love? By creating a heart with your hands, you can give the photo a more romantic flair. For those who find making a heart slightly too cheesy, you can always give the finger heart instead. The finger heart, often used in K-Pop and their fanbase, is created by using the thumb and index finger to create a heart shape. For couples, it could also be totally adorable to form a heart using each person's arm, much like what we see in Asian Romantic Comedies!
3. Model for the Camera
Proud of the makeup and the outfit that you spent hours curating? A photo booth is a wonderful opportunity to show it all off. Simply pose for the camera while imagining yourself on the cover of Vogue magazine. Don't smile for the camera. Instead, turn your head gently to create a more powerful image. Sometimes, this doesn't always work out, but it'll definitely create some funny photos you can remember the night by.
4. Peek-a-boo!
Pick up one of the many props available at the photo booth and hide behind them. Then, when the camera's shutter is pressed, pop your head out of the prop, peek-a-boo style. This creates some wild and wacky photographs and it is definitely a great way to make use of the props available.
5. Charlie's Angels
At the wedding with a few gal pals? Posing like Kristen Stewart, Naomi Scott and Ella Balinska from the new hit movie Charlie's Angels may just be the sexy angle you need to show off your girl power. Pick up a toy gun or two if you would like to make it look even more realistic!
Conclusion
A photo booth can often serve as the inspiration for some really amazing photographs. Just by focusing on having a great time, you can pose for a photo that you will remember in the years to come.
To enquire more about our photo booths, email us at cloudbooth@seankohphotography.com.