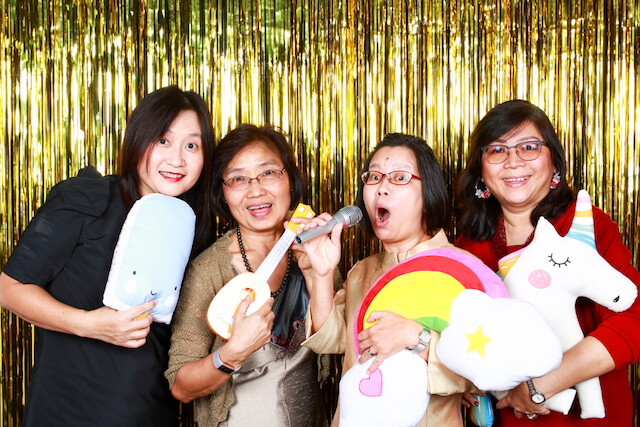 Photo booths are now a relatively common occurrence in Singapore, especially at weddings. They are the perfect activity to have on special occasions, as they not only entertain guests but also allow them to bring fond memories of the event home in the form of beautifully printed photographs. Photo booths in Singapore also allow guests to bond with friends and family members. But why do guests automatically feel comfortable using photo booths at events? Here are three reasons why a photo booth can cater to all types of guests.
A family activity for everyone
A photo booth is the perfect activity for families, especially at weddings where everyone in the extended family is gathered. Most extended families do not meet each other often enough and would love the opportunity to take a good photo together. The elder members are certainly happier to take photos with their siblings who have drifted apart due to individual family commitments. Younger children can be very happy to see cousins that they play with on the weekends. Even families that live under one roof would want a good family picture to bring home. The photo booth provides families with an opportunity to bond regardless of location or generation.
Everyone knows how to take photos!
In this age of camera smartphones, everyone knows how to take – and therefore pose – for photos. Photo-taking has now become an activity that everyone recognizes. So when guests see a photo booth set up, they immediately know what the booth can do for them: take a commemorative photo of the event. In this light, they'll gladly step inside and have their photo taken, with little explanation needed. The photographer will handle all the technical aspects of photo-taking so guests can simply enjoy the experience. They will also likely know to receive the printout soon after their photos are taken. Because of the accessible nature of photo booths, everyone can enjoy them easily, regardless of their experience with cameras.
A myriad of props to appeal to all types of people
The finest photo booths in Singapore will provide a large variety of props available for the guests to choose from. These can range from speech bubbles with well-wishes to toy swords, soft toys and masks. The props are also often curated to fit the theme of the event. For instance, weddings are more likely to have speech bubbles with auspicious sayings. Because of the large variety of props available, there is certain to be something for everyone. Younger children will prefer toys, while adults tend to steer towards more meaningful options like speech bubbles. It's also a good opportunity for friends to thematically use props to take a memorable group picture! Props will make the experience customisable to fit everyone's preferences.
Conclusion
Photo booths are definitely a perfect activity for any type of event. This is especially so because it is a type of activity for people of all age groups and demographics. To find out more about the finest photo booths, contact us at cloudbooth@seankohphotography.com.