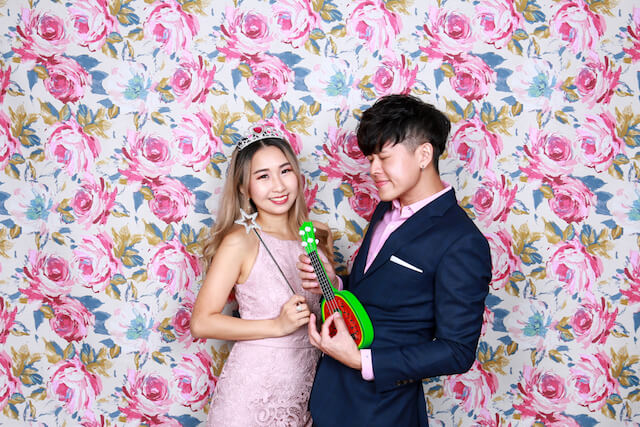 If you have recently attended a wedding, chances are that you would have seen a photo booth. These are dedicated spaces set up for the easy taking of commemorative photos – perfect to celebrate a special occasion like a wedding. With the best photo booths in Singapore, individual elements of the photo booth could even be customised to match the celebration: the backdrop could match the decorations in the wedding venue; the printout could be emblazoned with the couple's name and wedding hashtag; and the props could be customised to match the wedding's theme and overall mood. It is not difficult to see how photo booths have become so popular at weddings and many other events like school reunions. The evolution of photo booths has certainly allowed that to happen. Here are three reasons why photo booths have slipped into the must-have list of so many weddings in 2019.
Great activity for families
Posing and taking a photo is generally a pleasant and positive activity for guests. It is not difficult and it is an activity for the whole family, regardless of gender or age. At a wedding, extended families are able to meet and gather. It is a relatively rare occasion where everyone in the family can come together to celebrate something. This makes taking photos with distant cousins, aunts and uncles very worthwhile. At weddings, photo booths are incredibly popular, especially among family members who seldom meet due to their busy work schedules. Whether it is a photo with your grandmother that you only see once a year at Chinese New Year or one with your besties from university, guests will never pass up an opportunity to take a celebratory photo with someone they love. This is why weddings are the perfect occasion to bring out the photo booth.
A commemorative gift to keep for a lifetime
A wedding is a once-in-a-lifetime event. It is a huge celebration of the marriage between the bride and groom. The joy that comes from being at a wedding is significant and a commemorative photo is able to encapsulate the emotions of that memory forever. The photos taken at a photo booth are printed out for each guest and they can bring them home. These photos are usually very special to the family members of the bride and groom as they remind them of the people they love. Having a photo booth at a wedding also serves the purpose of producing customised, personalised door gifts for each guest.
Easy organisation of photo-taking opportunities
A wedding is a place where every guest would want a photo with the bride and groom. They are, after all, the reason why everyone is there to celebrate. Having a photo booth makes it easy for the bride and groom to take pictures with many of the guests. Simply have them stay at the booth after the ceremony and have guests queue up to take photos with them. This method of organisation will also limit the bride's need to move around in her movement-hindering wedding gown. A photo booth is not just a fun activity but also a great way to make the wedding photo taking slightly more organised for the guests.
Conclusion
Wedding photo booths are very popular in Singapore and it is for good reason. They provide guests with a simple way to take photos with their families, friends and even with the bride and groom. To enquire more about photo booths, email Cloud Booth at cloudbooth@seankohphotography.com.