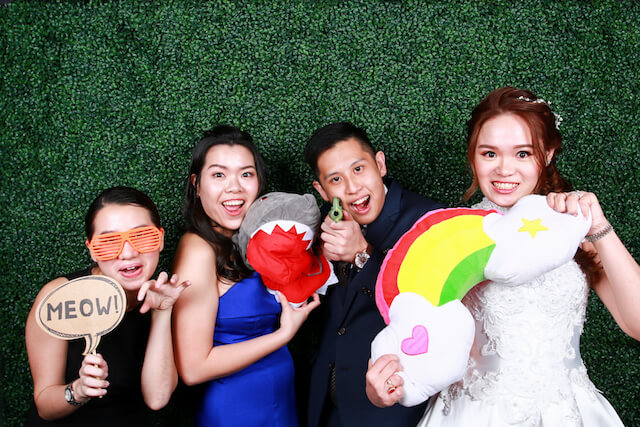 Weddings are a very joyous occasion for the bride and groom. Large wedding celebrations also usually involve inviting many guests to the wedding banquet. Preparations must be made to accommodate this large number of people. One of the items that can make the wedding experience a lot more enjoyable for these guests is the wedding photo booth in Singapore. These booths are set up near the wedding reception, providing guests with an opportunity to take a commemorative photo of the wedding with friends and family members that they care about. These pictures are printed instantly so these guests are able to bring home a hardcopy printout of the beautiful photo they took as a keepsake. Having a photo booth at a wedding is not just a convenient way to accumulate wedding photos, but also a way to keep guests entertained and socialising. Here are three ways that photo booths can enhance any wedding experience in Singapore.
High quality photos – only the best for the guests
Spending a bit of money to hire a photo booth will assure that quality photographs can be taken during the wedding. A modern photo booth will come equipped with a professional DSLR and a lighting system similar to that of a professional studio. Instead of worrying about whether the photo will turn out good, guests can instead enjoy a high-quality photo shoot at a wedding photo booth as many times as they wish over the course of the wedding. Each photo is guaranteed to turn out clear and well-lit. Often, these booths are also used when guests would like to take pictures with the bride and groom, so they are able to bring home a picture with the newlyweds. Bringing this value-added service shows guests that you care about the quality of their photo taking experience and that their experience at your wedding is valued.
An activity to increase social interaction
There are highs and lows in a wedding. The mood will peak when the bride and groom walk down the aisle, while it is a lot more relaxed during the reception. It is common for guests to be mingling with the people they know during the reception while waiting for the banquet to start. A photo booth would be the perfect complement to that. Guests can queue up to take a photo with the people they care about. The photo booth would then become a bonding experience or activity that these guests can do together. Friends and family members will certainly enjoy the photo-taking process and bring home a photo of themselves with their loved ones. Now that is something not to miss.
Increased presence on social media
These days, couples would often like their wedding to be documented on social media. That's no surprise – some of the guests they've invited would be unable to attend, so a social media presence would be a good way to reach out to these friends and family members. Nowadays, unique hashtags are also incredibly common to help attendees find photos of the wedding online. With cloud technology, it is even possible to upload photos taken at the wedding photo booth immediately after they are printed! All photos from the booth will be instantly uploaded on Facebook, ready for sharing by anyone – from the bride and groom to the guests!
Conclusion
Photo booths are undoubtedly a great addition to any celebration and especially so for weddings. Having a photo booth at your wedding will not only show guests that you care about their experience, but you also get a new album of photos to remember the big night by!