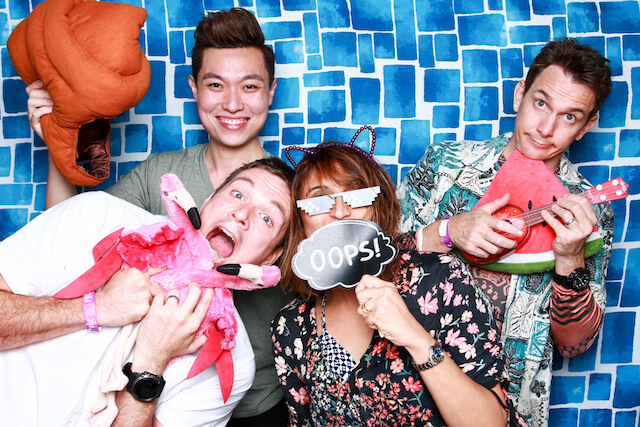 In Singapore, events are happening every day. Whether it is corporate events like conferences and customer appreciation parties or more special private events like a birthday or anniversary celebration, events break up the monotony of our everyday life with something exciting to look forward to. Often, these corporate events require some amount of effort to pull off. More examples of such events include the company's annual dinner and dance, a recruitment drive, a roadshow, an exhibition or an awards ceremony. When planning for these events, companies may consider lowering the budget on or forgoing an event photographer altogether. However, having good event photography in Singapore is instrumental to the success of any event. Here are three reasons why capturing and documenting photos of the event can be incredibly important.
Celebrating the hard work of all people involved
Putting together an event can take a lot of effort and the effort of the team that planned and made the event a success often goes unnoticed. The planning for some events – like annual charity balls – can start a year before the actual event takes place. Capturing photos will ensure that all the work put into planning the event, decorating the venue and rehearsing are documented. Once the event concludes, usually what remains of the event are the photos that signify the great memories formed during the busy day. Event photography serves that important purpose. With good photos of the event, employees will certainly feel that the work that they do is meaningful and, in consequence, may feel more appreciative of their job. Photos can also be used as gifts to thank employees for their hard work when printed out and presented to them. Whether the event is internal or external, having event photography will help to motivate employees and make their efforts look worthwhile.
Finding valuable lessons from each event experience
Event photography is a form of documentation of the event. After the event concludes, anyone can view the photos to review how the event went and any positive or negative experiences faced during the event. For instance, it is possible that there were no signs set up to direct the crowd or that some parts of the event were neglected and looked a little shabbier than others. Having these forms of documentation in pictures will allow for a more accurate and visual review after the event to see which part of the organisation could be improved. This is especially important for events that happen periodically (i.e. once every few months). Having an event with an assigned photographer will help the organisers to spot any changes that need to be made and eventually increase the overall success of future events.
Another way to engage with the audience on social media
Photos are really important on social media. Not only do they get more likes and comments than text posts but they are also able to evoke emotions within the users. Having an event photographed means that these photos can be used on social media to engage with guests even after the event has concluded. Guests are able to go online and interact with these pictures – if they really like these pictures, they might even share it with their friends, spreading good word of the event to their internal circle of friends. That way, having an event photographer does not only help the event organisers review their work, but also provide an avenue for the organiser to engage directly with existing and potential clients and customers. As such, it becomes an incredibly important tool for all kinds of event organisers.
Conclusion
Having event photography is thus critically important in enhancing the event and ensuring its longevity. For larger-scale events, we recommend hiring experienced event photographers who will be able to best cater to all your event needs. Email cloudbooth@seankohphotography.com to book an experienced photographer for your event today!