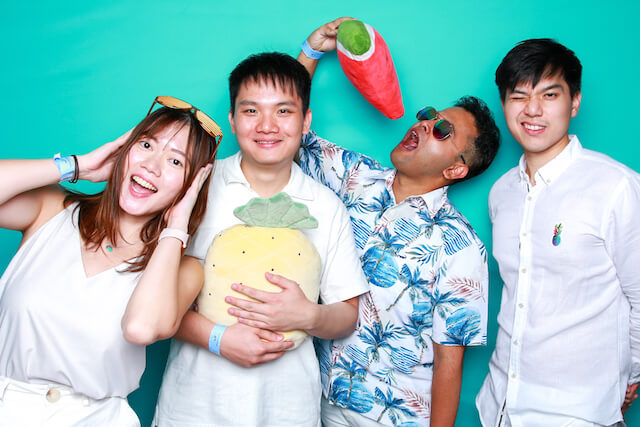 Corporations often employ event photographers in Singapore for their events. The purpose of these photographers is to capture the key moments during the event and eventually produce a digital and/or physical album of photographs that the client can keep and use. These photographers are important as they are trained and experienced in capturing all sorts of photographs during events, from portraits to action shots. The quality of a professional photographer's work will certainly be exceptional in comparison to ones taken by the company's employees. Good event photographers are well-known for taking amazing photos, and they are able to do other photography-related tasks as instructed. In this article, we will break down three possible tasks that an event photographer will excel at while performing their duties at any event.
Taking portraits as requested by guests
When attending an event, guests will often ask photographers to take pictures of them. This is quite common at both private and corporate events. At corporate events such as team building and dinner and dances, guests (your colleagues likely!) will be having fun and bonding over the exciting activities planned. This is when they would love to have their photos taken with their best pals at work. At private events like parties and anniversaries, guests might be meeting their loved ones whom they do not have the chance to see often, and a photograph with them is always welcome. The event photographer will be easy to find, especially since he will be holding a large camera or two with him. Event photographers will of course entertain these requests, especially if they do not have an important shot they want to capture during that time. Good event photographers will know how to position guests for the best angle, lighting and background. Guided by his expertise, having a professional around will certainly make guests happy to have their photos taken.
Directing people for photographs
Trained photographers are able to direct people so that they can get the shot that they want at the best angle. In fact, they are expected to have these knowledge at their finger tips. Often, they will shift themselves; other times, they will ask people to move if that helps make better photographs. Having said this, you, the client, must work with the photographer by furnishing him with information to prepare him for the shots. You might want to give him a list of important shots to take with details of who should be in them. For instance, you may want to tell the photographer to take a group picture of the Guest-of-Honour with the other VIPs while they are onstage. As the organiser of the event, you should also plan standing positions and walking directions on stage for important segments like award presentation and speeches, and make these known to those going up on stage during the event. Giving the relevant parties clear and precise instructions will ensure that your photographer can take all the necessary shots properly during the event and not be surprised by unexpected.
Curate photos for specific purposes
Finally, if you want photos for specific reasons, the event photographers can curate specific photos for you. If you intend to post some of these pictures on social media, the photographer can select a handful that would work better as audience engagement posts. They can also pick out the highlights of the event, thereby saving you the trouble of sifting through the many pictures to find ones that you can use. Giving the event photographer an idea of what kind of shots you want in advance will also help them better plan the time they spend at the event.
Conclusion
There are many things that an event photographer can do to ensure that all their pictures come out stunning. If you want to hire event photography in Singapore services, do contact Cloud Booth at cloudbooth@seankohphotography.com