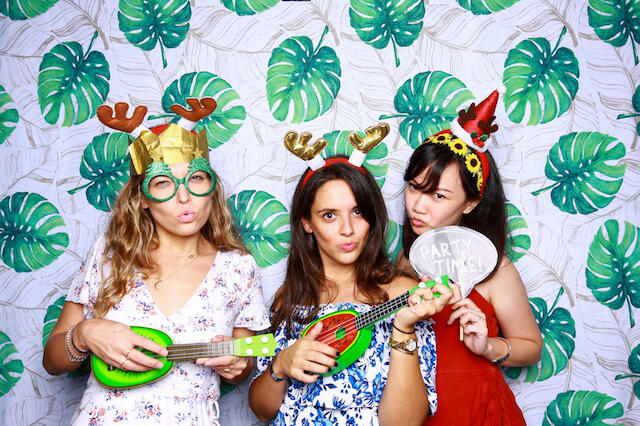 As we know it today, the photo booth is a robust set-up of cameras, lighting equipment, photographers and guests queueing excitedly to have their photo taken. But it was not always like this. In fact, the photo booth is an innovation that began very long ago – in the early 1900s, just when photography became more accessible to the lower-middle class in America. Today, photo booths in Singapore don't just take pictures and spend 15 minutes printing poorly rendered black-and-white images. Now, photo booths don't only boast fast printing but also superb photo quality that is sure to delight every guest. In this article, we will talk about three innovations that have become a significant part of the photo booth you see today.
HD Camera
Photo technology has greatly advanced since the 1900s. Today, cameras have not only become more compact but also more powerful. With increased storage space, better lenses and a market of passionate photographers, cameras are now able to deliver clear, well-lit and coloured pictures with the click of the trigger. At the finest wedding photo booths in Singapore, the camera used is a DSLR with a lens that is able to capture every moment beautifully. These photo booths also make use of lighting equipment fit for a studio. That way, clients stepping into the photo booth will be well lit from every angle. With a trained photographer and this excellent photography equipment, the photo booth is certain to wow all guests.
High-speed printer
One special feature of the instant photo booth is its high-speed printing. Guests are able to receive a printed, coloured 4R photograph in as little as 8 seconds after the photo is taken. This is only possible because of the printer used for the job. Printing technology has evolved so much that coloured photos can be printed on glossy photo paper, instantly drying without smudging. With modern printing technology, photo printing at an instant photo booth is not only fast but fuss free as well. Guests will certainly be delighted to see their beautiful photo slide out of the printer and presented to them almost immediately after they leave the photo booth – little to no waiting involved!
Social media and Cloud computing
With the advent of social media and Cloud computing, pictures and picture-uploading have become extremely common. With these, photo booths have also advanced. The modern photo booth in Singapore is now able to upload all pictures taken onto social media and into the Cloud instantaneously – even before guests receive their printed photograph! Guests are able to have a digital copy of the photograph taken simply by downloading it off Cloud Booth's Facebook page or via a private QR code printed on their photo! This way, they are instantly able to share and spread the celebratory mood of the event or wedding to their friends and family! Social media and Cloud computing have become such a core part of our lives that the best photo booths have integrated them as a value-added service for all guests.
Conclusion
As photo booths constantly evolve with new technology, they become much more exciting and fun. Step into a photo booth today to experience the magic in front of the camera!