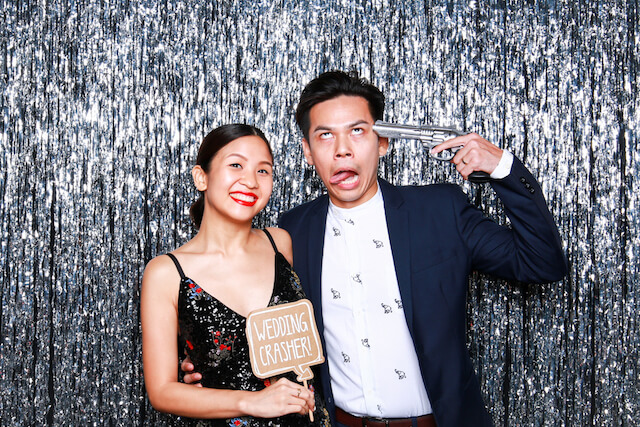 A wedding may very well be the biggest day of your life. Family and friends come together to celebrate the love between you and your spouse. As such, most brides and grooms will want to ensure that the day goes perfectly. That may involve a lot of preparation work, such as food sampling, picking out the perfect wedding dress and suit and ensuring there is entertainment for guests throughout the day. There are many things that can be added to make the wedding more fun and entertaining for your guests, including photo booths, a custom wedding playlist and a theme to make your wedding uniquely yours. In this article, we will explain how these three additions can help enhance your wedding experience and blow your guests away.
Wedding photo booth
Photo booths are very common among weddings in Singapore because they provide guests with entertainment and a personalised gift. At these booths, guests are able to take pictures with their family and friends and get them printed within a minute. To make the experience even more special, the bride and groom can customise the photo booth's backdrop and print-out design to reflect the occasion. For instance, you could include the your wedding picture in the printout design. The photos taken in a modern wedding photo booth in Singapore will also be collated into a digital album, adding on to the photos taken during the wedding for your perusal afterwards. In addition, it is also possible to screen the photos taken at the photo booth during the wedding banquet in a running slideshow. All these possibilities make the wedding photo booth an addition to the wedding that will be well-appreciated by all types of guests. With it, both you and your guests will be able to have a fantastic time at the wedding.
Customised wedding playlist
For most brides, a wedding is almost like a Disney fairy tale come true. Because there will be ambient music playing during the banquet, it would add a nice touch for you to hand-pick the perfect songs to play. Picking the right songs would not only set the mood right for the wedding, but also help you and your guests remember the day better. The bride and groom may also pick a playlist with different mood, especially if they share a love for another genre of music. In any case, a wedding playlist that is hand-picked by the happy couple will add a subtle yet meaningful touch to the mood of the entire wedding.
A special theme
While Singaporeans may not consider this, having a specific wedding theme can add a lot of value to the wedding celebration. For instance, if the bride and groom are big fans of fictional universes, having the wedding environment decorated like that universe will certainly make it extremely memorable. Even including small changes like special trinkets for guests can make a big difference. Though this suggestion may require more intensive planning, it will definitely be worth it when you see the smiles on your guests' faces.
Conclusion
With a thoughtful inclusion, any wedding can be made a very special experience for your guests. Keeping these three suggestions in mind, your wedding will certainly be one to forever remember.