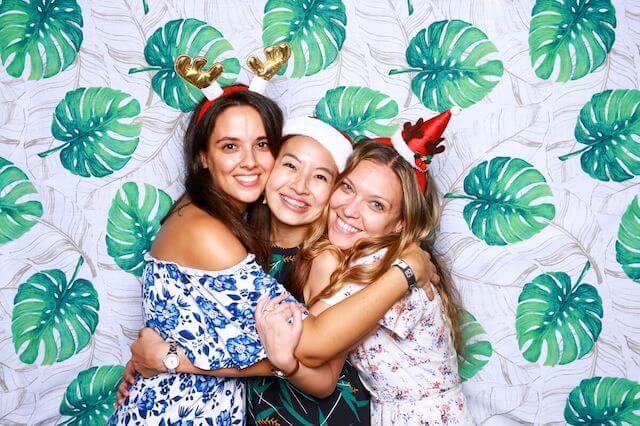 Weddings are grand, momentous occasions to celebrate the union between two loving individuals. That is why couples usually spend a large amount of their savings on the wedding, to ensure that every moment goes by smoothly and perfectly. One of the most important elements of a wedding is the photography involved. After all, the happy couple will want to look back on this big day and the photographs taken at the wedding will help them remember the joy that they experienced. One photography service that wedding planners may consider is the photo booth in Singapore. Photo booths are distinct from other wedding photography services because they are focused on the guests instead of the bride and groom. These booths can be the highlight of the wedding reception and an activity that brings guests together. Here are three reasons why you need a wedding photo booth for your big day.
Dedicated photo spot for guests
All guests will be taking pictures on your wedding day, whether with their friends or with the bride and groom. A wedding photo booth is perfect as a dedicated spot for guests to take photos. By having a professional photographer and studio equipment available for your guests, they will be able to take even better photos at your wedding. It is also good as a photo spot if guests would like to take pictures with you, the bride and groom. It will certainly be much easier for the bride and groom to be stationed at the photo booth while guests queue up to take a photo with you, instead of having you walk around for pictures. Having a photo booth also signals to your guests that the wedding planners and you have put in a lot of effort to make sure that their experience is enjoyable.
Another album to remember the wedding by
While guests do walk away with instant prints from the photo booth, the newlyweds will have something to bring home too – an album of digital photos of all the pictures that were taken. This is available because all pictures taken at a photo booth are saved onto a digital cloud. After the wedding, the couple is certainly able to look back at all the pictures that were taken and remember all the guests that came to their wedding. If opted in, guests are also able to download a digital copy of their photograph online through Facebook, where all the photos will be uploaded just minutes after they are taken! The wedding photo booth is a great complement to all your other wedding photo needs.
Another activity for guests to enjoy
Having social activities for guests may not be common in a Singaporean wedding, where there is no dancing. A photo booth fills in that need for an entertainment option. It is not imposing; it is up to the guests whether they would like to use the opportunity to capture a great picture. It can also be really fun when guests use props to make themselves look silly or funny. Often, photo booths help to bring guests together with the simple activity of photo-taking. Photo booths bring families together. They also bring friends together. This is how a photo booth fulfils the needs of a wedding.
Conclusion
With a wedding photo booth, a wedding can be more fun, social and inviting. Photo booths are great at providing gifts for guests while helping to create more memories for the bride and groom to look back on.