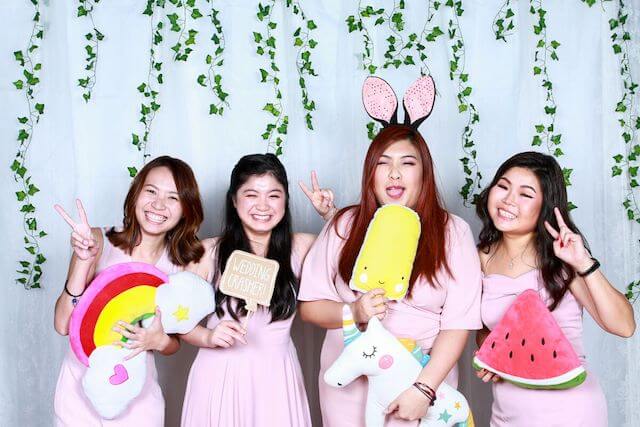 If you want to hire a photo booth in Singapore for your wedding or event, you'll likely be spoiled for choice with so many photo booth vendors. Photo booths come in many types and different vendors will provide different add-on services such as customised backdrops, print overlays and instant online sharing. Cloud Booth is a photo booth provider that is committed to providing the best photo booth service for your events. We offer wedding photo booths and photo booths for any other occasions. In doing so, we have learned how to provide services that both clients and guests will be amazed by. This article will explain how we ensure our photo booth is at the top of the market.
Studio quality pictures from start to finish
With photo booths, you should never skimp on quality. This is why Cloud Booth's photo booths are set up exactly like a little studio, with swiss brand studio lights fitted with flattering light enhancers and a top of the market DSLR camera system on a sturdy tripod. We pay particular attention to the configuration and calibration of our studio equipment onsite so that we can produce crisp, clear and high-quality photos for all guests. To do this, we also employ well-trained photographers and photobooth assistants, whose experience and professionalism are invaluable in helping to produce the studio-quality results that will blow guests away.
Props and backdrops to transport guests away
At Cloud Booth, we work hard to ensure that guests have a fun and enjoyable photo booth experience. One way for us to do that is to provide guests with a variety of ways they can customise their photos. We bring to each event a large selection of props that suit the theme of the event, be it hilarious head gear, meme glasses, super cute plushies or creative speech bubbles. These props can help guests transform completely into new characters for the photo shoot, allowing them to express their personal creativity. We will usually bring a table full of various props that guests can choose from. The customisation does not end there. We will ask the clients to select one of our many backdrops that can be used in the photo booth. Clients may select a backdrop or choose to custom print one that complements the event's theme, allowing the resulting photos to be even more personalised. These customisation options are not always available with other photo booth vendors, but Cloud Booth makes it a priority so your guests will have the best time they can at our photo booth.
Instant prints at an affordable rate
Our photo booth is able start churning out photos for guests within 10 seconds after they are taken. This is made possible only with the high-quality studio setup and calibration we insist on, which eliminates the need for photo editing after the picture is taken. Photos look great straight out of our cameras. This also means that pictures taken at our photo booths can be immediately uploaded onto social media and used online. There is no need to wait for the event to end! If desired, we also provide a complimentary live streaming service of the pictures taken at the photo booth for guests to enjoy and be delighted by!
Conclusion
Cloud Booth is committed to offering a photo booth in Singapore service that will leave your guests smiling with satisfaction. Get in touch with us at cloudbooth@seankohphotography.com today!