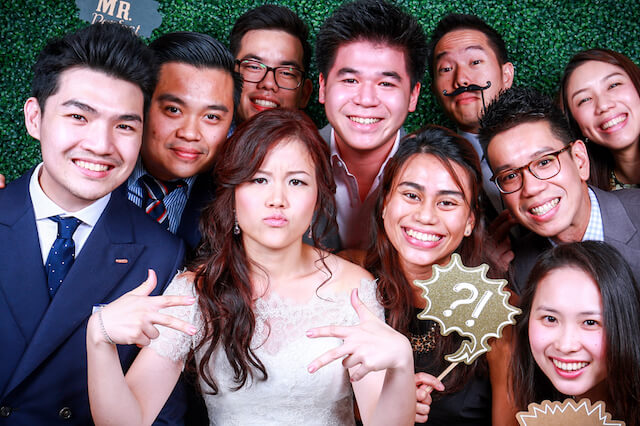 Wedding photo booths can be an absolute blast! When guests see a photo booth at a wedding reception, many would be eager to stand in the short queue and have their picture taken. They plaster on gorgeous smiles as the camera flashes and their stunning outfits and immaculate grooming are captured for eternity. Photo booths in Singapore can be a very fun and enjoyable experience for all. The best part of it all, of course, is that the bride and groom can take pictures with all their beloved family and friends. There are many ways that guests can make full use of the photo booth, but having fun is probably the best approach. Here are three fun things that your guests can do at any wedding photo booth in Singapore.
Use props for a hilariously fun photoshoot
At the modern day photo booths, there will a large collection of props to choose from. From soft toys to placards to funky hats, these props will allow each individual guest to show off their creativity and humour. Guests are fully at the liberty to choose the props they would like to include in their photoshoot and are free to take as many pictures as they like. This makes the photo booth a free and easy creative playground for all guests, whether they like taking pictures by themselves or with their friends and families. It can be even more fun to coordinate props and create themed pictures.
Have pictures with different groups of friends
The photo booth experience truly brings different groups of people together. While solo portraits can be a nice experience, nothing beats bringing together a group of close-knit friends to take a picture together. After all, the picture that is taken would represent the relationship that everyone has with each other. Each person in the photo would be able to receive the picture, adorned with a custom photo printout design from the photo booth's creative team. The experience of taking photographs with the many different people they know is in itself a very exhilarating experience and one to be remembered with every photo printout they receive.
Post the absurd creations on social media
When the photography masterpiece has been completed, it is ready to be released to the world. Fortunately, your guests don't have to wait long to do that at all. And they don't have to use their smartphone to take a picture of their photo printout either. All pictures taken by a Cloud Booth photo booth are instantly uploaded on to Facebook, which means that each guest can simply find the picture and tap the share button on their phones immediately after they receive the picture. This is made possible with the modern instant photo booth technology and the impeccable quality of each picture taken at the photo booth. Guests can be instantly proud of their picture and receive attention on social media. It is the perfect way to bring joy to all guests beyond just the taking of the picture.
Conclusion
Photo booths are certainly a source of enjoyment for everyone at a wedding. That's one large reason why wedding photo booths in Singapore are so common nowadays. To book a professional wedding photo booth or instant photo booth, do not hesitate to contact Cloud Booth.