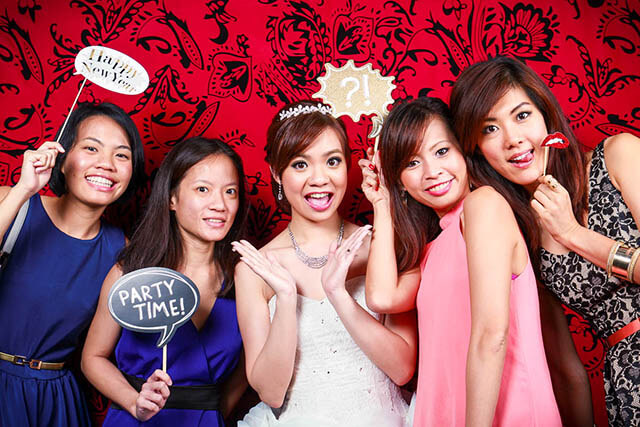 If you are attending a wedding or a company Dinner & Dance, chances are high that you will encounter a photo booth. The eyes of many guests light up when they see an instant photo booth in Singapore because it is a rare opportunity to have a stunning photo of yourself donned in a great dress/suit and taken by a professional photographer. You can even adorn your picture with a large variety of props – from themed placards to soft toys to toy swords and guns. Photo booths bring joy to many guests at events, often inviting guests to take second or third photos as they are given unlimited tries. If you are one of those guests who are very excited about photo booths, you are in luck! In this article, we will lay out five tips that can help make your photo booth experience even more enjoyable than before. Now, are you ready for your close-up?
Use the power of friendship
Most likely, you will not be attending the event alone. Whether you are with friends or colleagues, invite them into picture! Photos taken by a photo booth are made even better when taken with a friend. Show off your friendly chemistry and casual vibe with each picture! Group shots with many friends are even better as the printouts will reflect the bonds shared between each person in the picture.
Even if you are taking individual shots, your friend can help make you look even better by helping you laugh or giving a second opinion on your make-up. Friends are an indispensable part of the photo booth experience.
Dive into the pool of props
The best photo booth in Singapore would provide guests with a myriad of props. Sometimes, there is so many options that you are spoilt for choice! It helps to start perusing the props as you are waiting for your turn to take the picture.
If you are unsure which prop to pick up, a good tip is to go for the one that best represents your own personality or mood. If you love cute and cuddly things, the adorable chou-chou might catch your fancy! Each prop will help add a little bit more to your picture, so don't be afraid to use as much as you like!
Have the time of your life!
Go crazy. Go wild. This is the photoshoot you have been prepping for hours for. Pose like there's no tomorrow! Have fun in front of the camera! And don't be afraid of how it'll turn out. If you don't like it, just take another picture! The more fun you have and the less stress you feel, the better your picture will turn out! It's that simple.
Don't wait to pick up your printed picture – it's right there!
You may be tempted to walk off to the dining area or the toilet while waiting for your picture to be printed. Don't! Simply wait less than a minute for your photo to be printed in glossy 4R photo paper and you can enjoy the rest of the party. It's that fast!
Download your printed picture online – as soon as you receive it
Finally, after you pick up your photo, you can also download the picture online, whether it be through our Cloud Booth Facebook page or through a special QR code printed on the photo just for you. Everything will be ready the moment you pick up your photo. This is the true value of the instant photo booth in Singapore.
What next?
The exhilarating experience of the photo booth is certain to make you come back for more. When you're done with one fabulous photo booth experience, don't forget to share your beautiful picture on social media too!