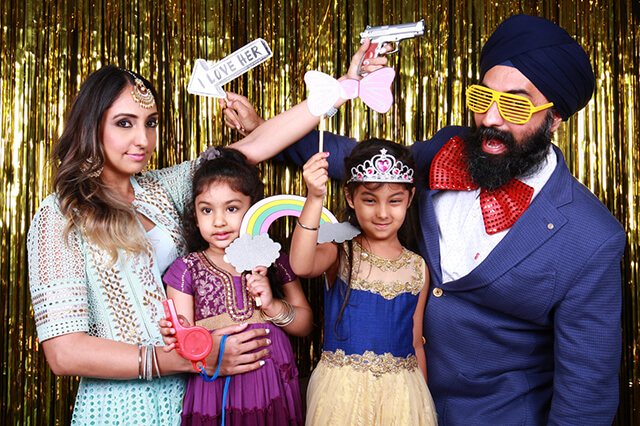 If you are an event organiser, you would most likely have heard of the instant photo booth. These booths are set up by vendors at events for a fixed cost. Guests may step into the photo booth to have their pictures taken. Then, the magic happens. These high-quality pictures are printed out immediately and presented to the guest! Because of this immediacy, guests will feel an instant gratification as they are wowed by the quality of the printed photo. As such, photo booth rental services have become an integral component of many successful events. But, in which events are instant photo booths the most common? Here is a list of three occasions that would certainly require a photo booth for guests to leave with a satisfying aftertaste.
Weddings
In Singapore, instant photo booths are most commonly seen in weddings. In fact, it is very rare to attend a wedding today without a photo booth in sight. Wedding photo booths serve as a way for guests to celebrate the union of the bride and groom, and even have something to bring home as a reminder. With the finest photo booth in Singapore, the printed photographs can be uniquely emblazoned with a custom design made to commemorate the event. For wedding photo booths, many couples choose to select a picture from their pre-wedding photography shoot as a core design element. When guests bring the printout home, it will serve as a reminder of the amazing time they had at the wedding.
Corporate or school events
Photo booths bring people together. When guests meet new people and take a picture together, it becomes a new bonding experience. This is why photo booths are perfect for any company gatherings, networking event, school orientations or similar events. Guests will be able to bring home a keepsake that marks the new friendship they have just formed or commemorates the strong bond they have built up over the years. The photo booth will heighten that experience to a whole new level with a provided variety of props. Props like placards, toy swords and kooky spectacles create a more casual mood for photo-taking, allowing guests to have fun in an otherwise serious setting. Soon, they will be laughing at their own silly antics and their happiness will be immortalised in the photograph that they bring home. Now that's the perfect ending to a successful event.
Birthday parties or festive parties
Finally, the last common occasion for photo booth rental is the party. Singaporeans typically seldom throw large extravagant parties, so it makes sense for them to go all-out when they do. Parties that celebrate important milestones in a person's life – like birthdays – are especially important since the success of the parties will often be associated with the host. Festive parties that can be enhanced with photo booths – such as Halloween or Lunar New Year – will also be ideal. In these situations, the photo booth serves as an easy yet fun photography service for all guests. For instance, the birthday boy/girl would definitely want a picture with everyone present at their party. What better way to do that than with a photo booth hired for the occasion? In addition to the instant printout, the host can also compile a digital album with all the pictures taken. The finest photo booth is able to upload these pictures automatically and instantly onto a platform like Facebook. Guests can then share and download the photos immediately. The party's host can also download these pictures and send guests a digital album after the party, to thank them for attending the event. That's the true efficiency of the modern photo booth.
Conclusion
Photo booths will certainly make an event memorable for all your guests. Contact us today to rent photo booth in Singapore.