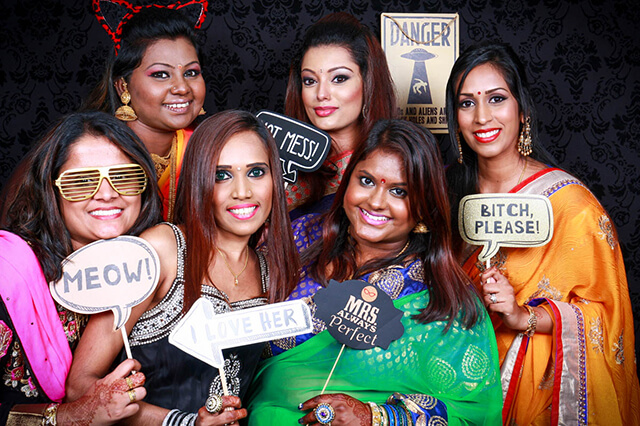 Instant photo booths in Singapore have taken the nation's events by storm. Event organisers and guests thoroughly enjoy the unmistakable appeal of having a beautiful picture of themselves taken. After all, many years ago, this would have been a privilege only the wealthy would have! Now, it is accessible and convenient. Guests know exactly what to do when they step into a photo booth: pose creatively and boldly in front of the camera and wait for the finished product, a glossy photo printout that encapsulates their whole beauty. More advanced photo booths even harness the power of technology by uploading photos automatically onto Facebook or a cloud service that guests can download from. The finest photo booth in Singapore is manned by professional photographers who have a keen eye for good pictures and provide excellent customer service.
Still thinking about whether to bring in a photo booth for your wedding or corporate event? Here are three reasons why Singaporean guests love instant photo booths.
A personalised gift
Gifts undoubtedly bring joy to the receiver. They feel appreciated. Instant photo booths offer a wonderful way to tell your guests that you care. Each printout of your guests' photos is personalised – you can customise the design and backdrop of the printout, and guests will be able to see themselves in the photograph. This aspect of personalisation will definitely be appreciated by each guest. The instant nature of the photo booth is also a big plus, as they get to reap the satisfaction of the gift immediately after the picture is taken. Furthermore, guests will receive these pictures absolutely free-of-charge, so they can enjoy the photo booth service you have hired for your event without any worry.
Props galore!
This is what makes the photo booth experience different from a simple picture – the wide array of props provided to guests. The wondrous symphony of props means guests can transform themselves into fantastic or comedic characters that are simply out of this world. Hold a toy sword and they turn into a knight. A toy gun means they can role-play as James Bond. With our photo booth, be prepared for a full table filled with a large assortment of props. For the more senior guests, props with Chinese well-wishes are available too – perfect for a more traditional Chinese wedding. Even guests who are reserved and introverted will be thrilled with the limitless possibilities of props!
Digital copies are also available for everyone!
With the power of cloud technology and advanced software, each photo from our photo booth can be downloaded instantly off the internet. This process is extremely convenient; it can be done within minutes after the photo is taken! Guests can find a digital version of their gorgeous photos on an album on our Facebook page. Or, if more privacy is needed, guests can digitally download their photo from our storage Cloud with a unique QR code printed on their photo printout. These digital copies are great for sharing on social media or for storing on their phones or computers, which can sometimes be more convenient than storing the physical photos.
Conclusion
Photo booths are a perfect addition to any event – because Singaporeans of all ages and backgrounds will love it. In this day and age, no one is a stranger to taking photos. An opportunity for guests to take photos of themselves at their best will certainly be met with glee.