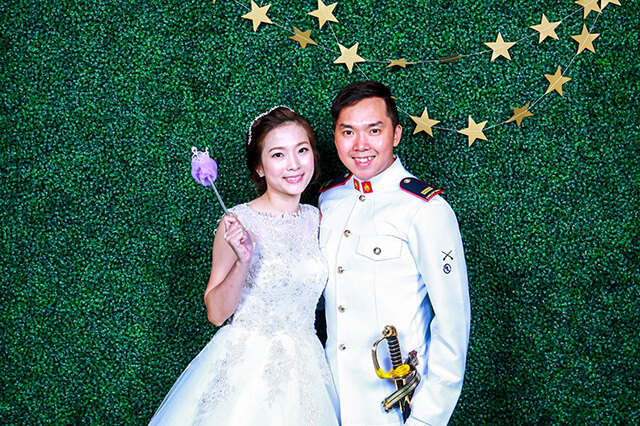 Your wedding is possibly the most joyous event in your life. It is an intimate gathering of your closest family and friends to witness the first steps of your new life. Of course, your partner's friends and family members are involved too. For such a grand occasion, there is much preparation to be done. But one of the key things to note is the activities available for the guests. With a banquet as large as a few hundred guests, it would be hard to accommodate to everyone at the same time.
One possible solution to keep guests occupied is to hire a photo booth. Photo booths allow guests to take pictures at a designated area in the wedding. Instant photo booths in Singapore will even print out the photo immediately after it is taken. The finest photo booth in Singapore provides exceptional quality printouts on beautiful glossy photo paper. They even provide plastic sleeves to protect the printout from external damage. At Cloud Booth, all our photo booth services are run by professional photographers. We even have a variety of different wedding photo booth in Singapore available for hire. Here is a short summary of them.
Wedding photo booth
The wedding photo booth is a classic at almost every Singaporean wedding. It has everything you would expect from a photo booth, including props and a customised backdrop. Wedding photo booths are especially important for the bride and groom, as everyone would want to take a picture with them. Cloud Booth's wedding photo booths also come with a live feed service, so all the pictures taken can be shown on the big projector screen in the ballroom. Each photo printout will certainly remind your guests of the fun time they had celebrating your love and commitment to your partner.
Wedding GIF Booth
For an even wilder experience, try the wedding GIF booth. These booths not only offer instant printouts of the pictures taken, but also create animated GIFs out of them! The GIFs are available for download immediately after the pictures are taken. And the pictures will be compiled into a single high-quality printout, complete with a fully customisable design. Animated GIFs are great for you to put on your website and are just fun in general. GIF booths also have the advantage of being multi-purpose – if guests prefer to just take a normal photo, they can have that too! It is the all-in-one photo booth.
Green screen wedding photo booth
Ever wanted to take a picture in the hallway of Hogwarts? What about in the throne room at King's Landing? With the green screen wedding photo booth, nothing is left to the imagination. Perfect for themed weddings, these photo booths use the magic of green screen technology to transport your guests into a digital backdrop. Any digital image can be used as a backdrop with the green screen. The green screen does not reduce the quality of the pictures either. Every image will still come out crisp, clear and magical.
Conclusion
There are certainly many options available if you would like to hire a wedding photo booth, each with their own unique advantages. When planning your wedding, don't forget to consider which type of photo booth you would like!