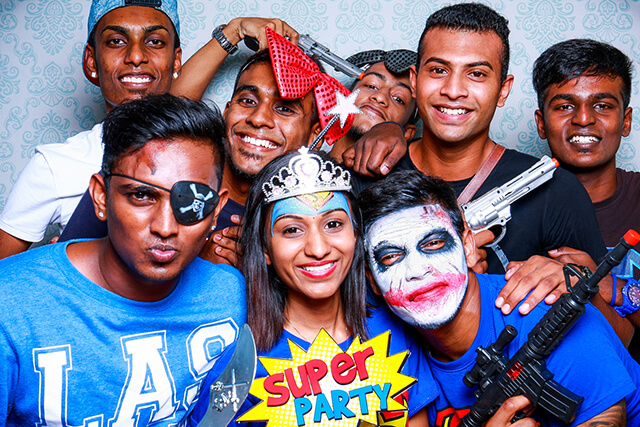 Have you ever been in an instant photo booth in Singapore? More often than not, most of us stumble into our first instant photo booth experience completely unprepared. We pose awkwardly in front of the camera while trying to understand how it all works. Then, we receive an instant printout of the photo mere minutes later, often with a special customised print design. The photo comes out stunning, thanks to the bright and well-positioned studio lights and the beautiful backdrop behind the photo. You may be wondering: how do I get an even better photo the next time? This short guide will give you a few tips – some of them even used by fashion models – that can help you ensure that your future photo booth photoshoots look more than gorgeous.
Find out when you will encounter a photo booth
This may seem like a no-brainer, but it is important to know when you will actually chance upon a photo booth if you intend to make the most out of the encounter! You can typically anticipate when you will encounter an instant photo booth Singapore – usually, they're present at weddings, parties and large-scale corporate events that you attend. When you identify the next opportunity, you can then follow the next few steps to get ready for your phenomenal photo booth experience.
Ensure you are well-rested and hydrated
To ensure that you look your best, sleep early the night before and ensure that you drink plenty of water. This is a routine that models follow as well. Getting adequate rest and water will make your skin look their best. In addition, hydration will ensure that your lips are not dry and chapped. Sleep will make you look awake, alert and ready, especially in your eyes. It is usually not a good idea to take a photo when your eyes are dull or sleepy. When you are well-rested, your eyes will look less strained and the blood vessels inside the eye may recede a little bit. Self-care is definitely important to help you look your best in front of cameras at an important event!
Avoid tight clothing the day before
To prevent ugly marks on the skin, it's important to ensure that you are comfortable in everything you wear in the previous days. When you wear tight-fitting clothes, there is a chance that they will leave red marks which may remain in those areas overnight. This can also apply to tight rings, necklaces and other accessories. Wear loose or decent fitting clothes, and save the tighter ones for the day of the photo booth!
Don't forget to clean your accessories!
If you intend to wear rings or jewellery to the photo booth, do remember to clean them in advance! Sometimes the smallest imperfection like rust or dirt on your necklace may show up on your photo under studio lighting, and you may not notice until after you receive the photo.
Co-ordinate your outfit!
Photo booths are one of the best places to show off your fashion sense – whether they be quirky or simple, wild or tasteful. You may opt to try out a few outfit combinations a week beforehand to find out which one(s) you want to wear. Remember to dress your best when you head into a photo booth!
Conclusion
Getting into perfect shape for a photo will certainly require a small amount of effort, but don't let it deter you from the enjoyable experience that is the photo booth! Who knows? Perhaps, you will get a chance for a photo with your bosses at your company dinner and dance or with the bride and groom at your besties wedding!