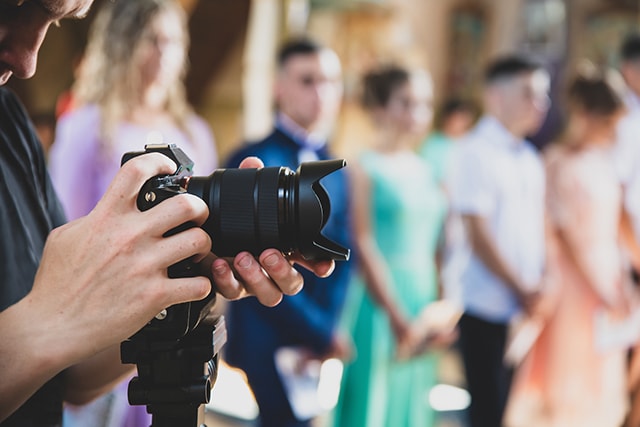 Event photography has greatly increased in variety recently. Typical event photography still employs photographers running around and taking pictures of key event highlights. However, there are many other types of photography that may be employed for events, including the instant photo booth in Singapore and the roving photography service in Singapore. These services are different from typical event photography in that they directly involve the guests and bring them a great new experience. Roving photography, in particular, is a relatively new concept. This article will briefly explain what roving photography is and list the factors that have contributed to its recent popularity.
Roving photography
Imagine that your guests are busy mingling at your big party. These are great opportunities for a photograph – guests would often love to take pictures with their newfound friends. A roving photographer allows that to happen and more! A photographer will be roaming around the event area and asking guests if they would like to have their photo taken. These photos are taken right where the guests are, so they do not have to travel to another part of the event venue (as is needed for a photo booth). With a flash from the high-quality lighting and professional camera, the picture is taken.
The best part is this: instead of waiting for weeks for the photo to be edited, the roving photography service provides on-the-spot editing, and guests can receive an instant printout of their photo just minutes after they are taken! The custom-designed printout is what sets roving photography apart from typical event photography. Guests will feel thanked and cherished with this token of appreciation from the event organisers.
The set-up
Our roving photography service comprises of a three-man team: a photographer, a photo editor and an assistant. These three staff members work together in a flawless workflow. After the photographer takes the photograph, the photo editor will spend a short amount of time editing it. Then, the picture is printed and the assistant will place the photograph in clear, plastic sleeves and arrange them nicely for the guests' collection.
Because we transfer photos from one person to another wirelessly, the process is smooth and hassle-free. Some companies that transfer their pictures physically end up employing a runner to facilitate the clumsy process, incurring additional costs.
Why roving photography?
There are a few reasons why roving photography has gotten so popular. First, it is seen as a premium event photography service. It elevates the mood of the event, making it more classy and polished. That's why so many of our roving photography clients hire us for weddings and corporate events.
Second, it is of the ultimate convenience to the guest. Guests do not have to line up or travel across the large event venue to get their photo taken. And they can pick up the printed photos conveniently as and when they wish. It's a smooth integration of photography into the overall event flow.
Conclusion
In addition to the standard event photography, a Singapore roving photographer is the perfect complement to any event. Guests will certainly gleam with happiness about their immaculately taken photograph as they receive the printouts.