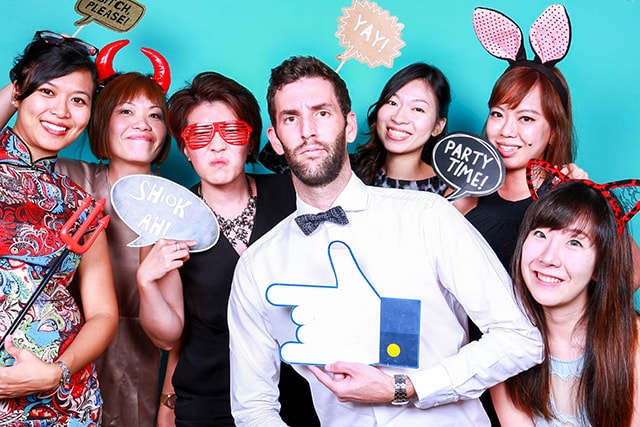 Wedding and corporate photo booths have become a crucial component of many events held here in Singapore. The best photo booths in Singapore are operated by well-trained and professional photographers, who know how to get the best out of every shot taken. These photo booths have been growing in popularity due to the fun and light-hearted nature of the activity. The instant printouts can be received less than a minute after the photo is taken. This makes the printouts a great gift for audiences of all ages. Whether it's the elderly or the children, photo booths bring joy to every guest.
The best instant photo booth in Singapore has another surprise lying in wait. Beyond the initial printing of the photograph, guests can have their pictures uploaded digitally too! Our photo booths are able to upload all pictures that are taken to Facebook automatically and instantly, creating an online album that will be remembered for eternity. In this article, find out how our instant photo booths can enhance your event experience by using the wonderful powers of the internet.
Facebook upload
When each photograph is taken at our booth, they're automatically compiled into an event album on our computer. Our true studio setup ensures superb photo quality straight out of the booth without the need for further editing. This means that, if desired, this album can be synced onto an album on our Facebook page. This means that each picture is immediately uploaded within minutes of it being taken! Guests can find this album easily on the spot or when they get home. Facebook's share functions also allow them to easily share the picture with their friends, which makes great publicity for your event! This option is popular for wedding and other celebrations.
Private email link
If you would like a little more privacy with the pictures taken at your event, then you can opt out of the instant Facebook upload. Instead, opt for the private download link function. This function prints a personalised QR code on each photo printout, allowing guests to receive a private download link with each individual photo. The best part? All of this is done instantaneously. Guests can download their digital photo as soon as they receive their prints. If they love their picture, they can even upload it onto their own private social media accounts to share with their close friends. This option is great for closed-door corporate events which do not require publicity.
Live feed in the event venue
One more way these photos can boost an event is the live feed function. If the event has a generous amount of time in between programmes and there is a projector available, a live feed can be set up. With this feed, each picture that is taken at the photo booth can be projected almost immediately after they are taken. If no photos are taken for a while, then the slideshow will simply play back existing pictures. Guests will be pleasantly surprised to see their faces appear on the big screen! All this can be accomplished on our own laptop – so no need for any additional equipment from you.
Conclusion
Our instant photo booths provide these great value-added functions without extra costs. We have definitely harnessed the benefits of digital technology and used them well in our photo booths in Singapore.