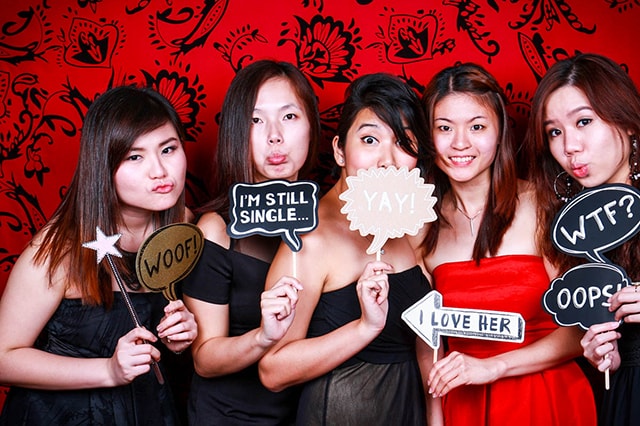 Photography has evolved tremendously over the last few decades. From its humble beginnings as a premium service available only to royalty, photography today has become extremely accessible to the masses. Nearly everyone in Singapore is equipped with a camera phone in their pocket and social media platforms like Instagram has made sharing photos quick and easy.
Likewise, the instant photo booth in Singapore has changed over the course of time too. Gone are the days where the photo booth was an excessive expense. Today, photo booths can be found in many events all over the island. Modern day iterations of the photo booths are multi-functional and have a large variety of features, including instant printing and instant uploads onto social media. To help us fully appreciate the wonders of these new functions, here is a brief look into the history of photo booths.
Birth of the photo booth
Modern photo booths started appearing on Broadway in New York City in 1925. In this booth, people could enter and pay to have 8 pictures of themselves taken. Each series of photographs took almost 10 minutes to develop and print! Despite all that, the photo booth was still a big commercial success, having been used by over 260,000 people in its first six months. The photo booth was slowly brought to different countries through ships during the industrial revolution, and grew popular in most other countries during the 1960s. Sharp-minded innovators unpacked the instant photography technology and came up with similar inventions all over the globe.
Photo sticker booths
Have you ever seen those photo booths at the local arcades that were able to print photo stickers with extremely cute designs? These were extremely popular with the teenagers in the late 2000s. These were called photo sticker booths, and they originated from Japan. They eventually grew popular all over Asia.
One feature that sets these booths apart from the older style photo booths is the ability to select and alter the design of the photos printed. Users could use a menu to select which pictures they would like to print and using which design. Then, these pictures get printed out into stickers which they can paste anywhere – like along their bedroom walls!
Modern instant photo booths
Now seen at events, the best instant photo booth in Singapore offers much more in comparison to its previous two iterations. These professional photo booths use stunning studio lighting and a high quality camera. Now, pictures get printed in crystal-clear quality in less than a minute! And, instead of only taking just the printed photograph home, guests can also download their pictures digitally via a public Facebook album or by a private download link. Event organisers may also strategically use the photos in a live feed to liven up the event.
Conclusion
Photo booths have certainly come a long way, with each new radical innovation making the experience more and more exciting. Now completely integrated to the digital world, these modern photo booths will certainly make a splash at any event.