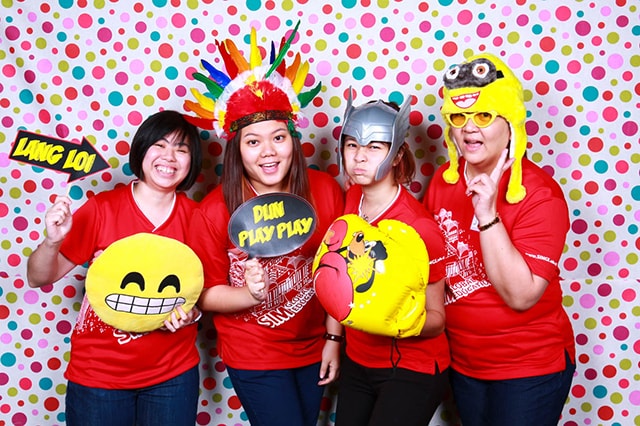 When hiring photo booths in Singapore, there are multiple ways to customise the photo booth experience for your event. One of the main ways is the design of the printout that guests will receive from the photo booth. Each photo printout can be elaborately customised to highlight the event's themes and concept. The front of the printout, surrounding the photograph is where the magic happens.
In case you have no idea where to begin, here are a couple of possible ideas on how to design your custom photo printout:
1. Using an iconic photo
When hiring a wedding photo booth in Singapore, a common design would be to include a photo from the happy couple's pre-wedding photoshoot. It reminds guests of why they took that photo in the first place – to come together and celebrate their holy union. Using a professionally taken photo as a custom design also makes the event feel more intimate and professional.
If the photo booth is for a corporate event, it could be even easier. Use graphics that represent the event. These could be graphics from your design team or anything that could resemble the event in its entirety. You can even use an iconic picture from a similar event in the past to represent your upcoming event. For instance, if your photo booth is used at a networking event, finding a suitable photo from previous similar events would be useful.
2. Using a fantastic illustration
If your event revolves around games, animation or children, then it might be appropriate to use an illustrated picture for your photo booth print template instead. Children, particularly, are very attracted to cute and colourful cartoons so you can raise the appeal of your photo booth tremendously by finding a good image for your photo printout.
If your event is a comic or games convention, good art becomes even more important in drawing the crowd. You can consider using mascots from popular franchises or even fanart, given that you seek permission from the right people before using them.
3. Including a corporate logo or icon
Finally, if you're planning a company event, the easiest element to add to your custom photo booth printout is a simple corporate logo or icon. This requires the least amount of effort as every corporation is bound to have a graphic that represents them. However, it can come off a bit plain on its own. Consider adding a textured background behind the logo for an added dimension. This design should be simple and effective, meeting everyone's requirements.
Conclusion
A customised printout from an instant photo booth in Singapore can help to perfect the event experience. If you're still unsure of what you can do for your photo booth printout, Cloud Booth's friendly designers can help you out. Simply think of a concept, and our in-house team of professional visual artists will get right to work making it a reality. Get ready for the perfect photo booth experience!