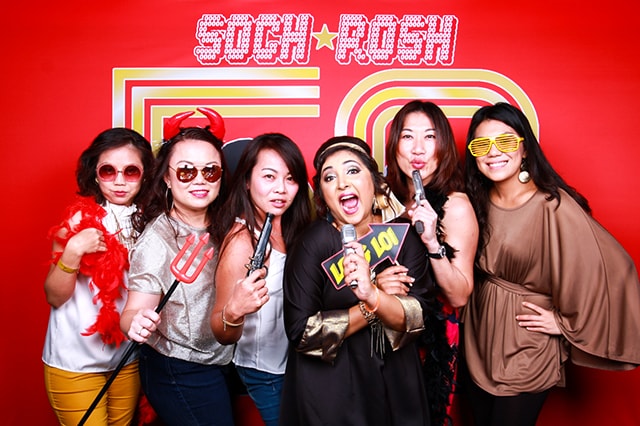 Every wedding is different. Every couple is different. That is why wedding planners spend hours and hours finding ways to make the wedding perfect for the happy bride and groom. A photo booth rental in Singapore, like many other components that make up the wedding, are also customisable. The photos taken at these booths will be looked at, admired and framed as precious memories of the big day. That is why it is important to hire the best photo booth in Singapore – one that allows for plenty of customisation options. At Cloud Booth, our professional photo booths come with ways to make the photo booth experience uniquely yours. Here are 3 ways you can customise your photo booth.
Customise the backdrop
With over 23 backdrops with a large variety of styles to choose from, you'll certainly be spoilt for choice! The choice of backdrop can really accentuate the mood of the wedding, as you will find the backdrop appearing in every photo taken at the booth. With sparkly backdrops, plain backdrops or patterned backdrops, guests will surely love how their pictures turn out. If you think the 23 backdrops that we have are not for you, don't worry! We can even use a chromakey green screen for some Hollywood magic turning the backdrop into one that is out of this world – superimpose any picture or illustration you want onto the green screen. You are only limited by your imagination!
Customise the print template design
When guests finish taking their picture, they will be waiting excitedly for the printout. The layout design of the printed photograph makes for a perfect photo finish. And the best thing: this design is fully customisable and we do not place our logo on the designs. If the photo booth is for a corporate event, you can consider including your company logo, any graphics elements and text that's relevant for the event. It's even possible for us to have our in-house designers bring life to your ideas for a beautiful back cover. Guests will certainly remember your event afterwards with your unique photo design.
Props!
One of the unique points of photo booths is the props that we can provide. Every time you rent a photo booth, you can choose from a variety of props to provide to your guests. These can range from simple props like signs and glasses to more exciting ones like wigs and masks. You can consider hand-picking the props that you think your guests will like before the event begins. Our photo booth rental service comes with many props to choose from. Let us know what kind of event you are hiring us for and we promise to fill one long table top with relevant fun props! The prop kit can make or break a photo booth experience, and with our extensive collection of props, you'll be sure to find some that fit your event needs.
Conclusion
The best photo booth vendor in Singapore will provide you with plenty of customisation options to bring out the best in your photo booth experience. You can truly make your event's photo booth your very own!