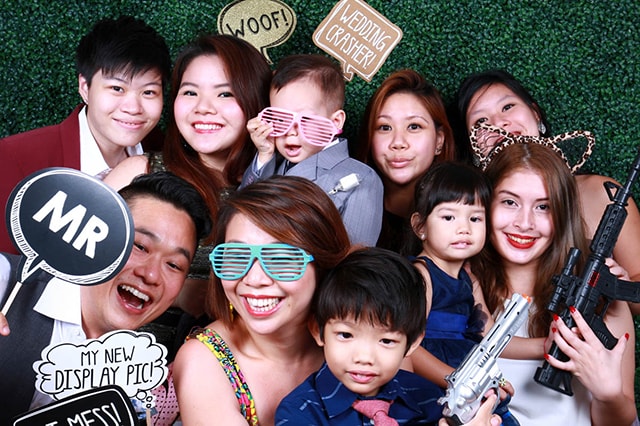 For years, photography has been a staple at events. Photographers zips around like a ninja, capturing the key moments that happen – when the VIP makes his/her speech, when the guests discover something new, or when the bride and groom's family gather together on the stage for the biggest toast of their lifetime. There is value in each moment and photographers are able to capture the most important ones in beautiful, still images.
Besides traditional event photographers, there are a few new photography trends that events have incorporated. Instead of event photographers running to ask guests for a photo, the roles have reversed – guests are asking these photographers to take their photo instead! These trends have made photography engaging, exciting and entertaining for all event guests. Let's take a look at some of these examples.
Instant photo booth in Singapore
The instant photo booth has become a big hit for any event in Singapore. These are pop-up mini photography studios that are able to snap professional, high-quality photos and have them printed out for guests within minutes. Each photo is presented to guests in clear, plastic sleeves, so they can bring it home without soiling or dirtying the photo. With the best photo booth in Singapore, guests will come flocking excitedly for a chance to take a photo. Event organisers can pay a flat rate to rent the professional photo booth for the event's few hours. Guests are able to take as many photos as they wish – all for no extra cost. The better photo booths will even allow guests to retrieve their photos from social media immediately after it is taken, so they can share it with all of their friends. The photo booth experience is one that is rising in popularity, and is not to be missed.
Polaroids
These are little cameras that give you a print-out immediately after you press the shutter. Polaroids are great to have because they are cheap and very vintage – you'll need to wait only a few moments before the photographs fade into view. They're small photographs that many teenagers use to decorate their rooms.
While polaroids are great trends, the vintage nature of it also comes with disadvantages. The photos do fade away after a while, and they do rely on the flash of the polaroid to make everything visible. Guests would likely want something more permanent to remember their wedding by.
Roving photography in Singapore
A more formal version of a photo booth, this photography service is all the rage nowadays. In this set-up, instead of having a booth set up, the photographer goes around the event, asking guests to pose for a photo. Then, guests are able to collect the photo print-outs in just a few moments. Similar to classic photo booths, they will be printed in high-quality paper and placed in clear plastic sleeves. A reputable Roving Photography vendor will provide an experienced, professional photographer and also a good onsite photo editor to ensure the best photo quality for your event. The photos they provide will also be available to download on social media sites moments after the photos are taken. The roving photographer is the ultimate convenience for all guests at the event.
Conclusion
If you're running your own event, you'd certainly want a photography service that suits you. Select from one of these services and your guests will certainly be grateful to receive a custom print out to remember the event by.