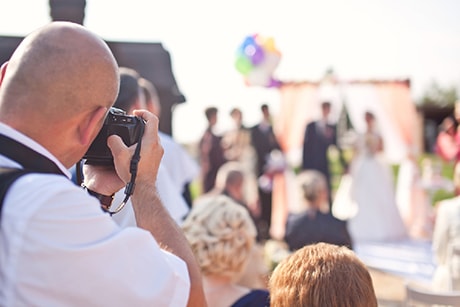 The introduction of photographers to any event immediately elevates its appeal and gravitas. Photographers are synonymous with events that garner a lot of attention and coverage. However, you don't need to hold a lavish function with hundreds of attendees just to hire professional photography services. This is where roving photographers come in. Your event can have a dignified aura, as eagle-eyed professional photographers roam around, capturing beautiful posed shots with studio-quality DSLR cameras.
With that said, we'll explore some of the excellent benefits a roving photographer provide, and hopefully, convince you of the need for one at your next event.
Professional and Dedicated Team
Hiring a team for roving photography is an essential part of capturing important moments during your events. These photographers are dedicated to fulfilling various photo requests and will roam around the venue of the event, asking guests if they would like to gather and pose for photos. Duties are normally divided between them; a lead photographer goes around to take photos, an on-site photo editor touches up the photos digitally using computer software, and a photography assistant who assists the former two. The team will ensure that all photos captured, edited, and prepped, are flawless for the event.
Instant Upload to Social Media / Softcopy
Who doesn't enjoy uploading their photos to social media and sharing it with everyone on their friends list? Fret not, having a team of roving photographers from a reputable company allows just this. Rejoice in the fact that you're able to immediately upload the photos directly to Facebook and share on your feed, right after the photo editor has made your photo pretty and Facebook-worthy.
What's more, if you're shy to share the photo to your Facebook, with a reputable company, you could have the Roving Photography team e-mail it to you, so that you could upload it yourself at a later time! This is especially helpful and convenient as certain websites such as Instagram, do not have direct-upload features yet.
Quality-Assured Features and Service
The reason why roving photography is so popular is that they provide services that not only meet the demands of customers but go beyond expectations with amazing features like:
Bespoke Print Templates – Describe the type and style of print template you desire and the team will design one that is uniquely yours. This is great for events with specific themes like weddings or graduation parties.
Branding for your Company: For corporate events, your company's logo and any text and information can be included in the print template design, making Roving Photography printouts the best, customized souvenir that does wonders for marketing.
High Quality Instant Photos ­– When you've hired the right vendor, you can expect their roving photographers to be skilled at taking photos of individuals or groups. Photos taken will be edited onsite by a professional photo editor and be printed within minutes for your guests to collect.
Conclusion
We hope that this article has enlightened you on the significant perks that roving photography brings to any event. If you want photos to be long-lasting mementoes, you simply can't miss out on having professional photographers with an eye for detail, to capture the exciting and important moments during the occasion.