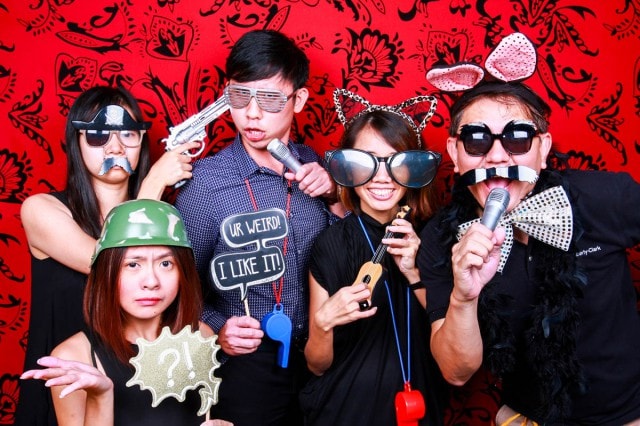 You're at your best friend's wedding, and you spot something that brings a smile to your face and fills your bones with excitement – it's a wedding photo booth in singapore! You cannot wait to pose terrifically in front of the camera, and review each photo as they are printed on premium, glossy paper. You're prepared – you've dressed up for the occasion, you have decided which props to use and which poses to strike. You're ready to have a great time at this part of your friend's wedding. That is when it dawned on you that it would be a little lonely to be taking the photo all by yourself. But what can you do to get your friends and family members interested in posing for a photo with you? Here are a few suggestions.
Turn the photo shoot into a contest
The finest photo booth in singapore has the capability to instantly upload photos online, so you can download it whenever you want. This opens up many possibilities for competition – you can challenge your friend to a competition of who will get the most likes or reacts on their photos within a certain period. For instance, if you two are great comedians, you can compete to see who will take the funnier photo, by gauging it with "Haha" reacts on Facebook. You can make this competition even more fun by putting in a stake – for instance, the loser has to treat the winner to a few drinks. The photos taken will certainly be out-of-this-world with the special drive that comes with a competitive spirit. Witness the amazing burst of creativity as both of you step up to the challenge.
Share your photos with the people you love
One great reason to take a photo is that you can share that memory with everyone you love. If your friend is resistant to the idea of taking a photo with you, consider persuading him from a more emotional angle. Each photo you take is a memory that you can keep and cherish with you forever. The printed photograph becomes a physical representation of your relationship. You can show it all off and feel beautiful nostalgia wash over you when you look back at this photo in the future. Singapore instant photo booths will likely allow an unlimited number of prints – so you can have as many photos taken as you want!
Truth or Dare
"Truth or dare" is such a great game because it brings out the competitive streak in us. If your friend is having cold feet about taking a photo, you could use it as a dare instead. For example, if he spots someone that he would like to chat up, you could dare him to speak to her, and ask her to take a photo with him at the photo booth. This dare could be the thing that gives the drive for a romantic start. You can also dare him to do something crazy, such as put on a wig, perform a little sword fight, or pose in a hilarious manner – all possible with props from a Singapore wedding photo booth. Make every use of the photo booth's opportunity – you never know when you might see it again.
Conclusion
With friends, photo booths can be a real blast! The next time you see a photo booth, remember to "jio" a friend for a truly great time.