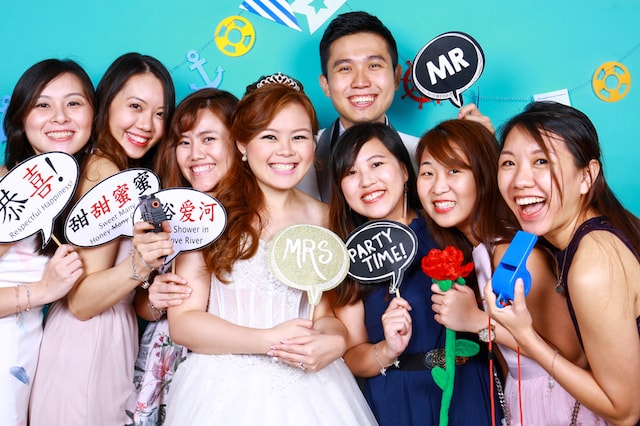 Your best friend just told you that they are getting married! It's exciting news – because you could be the one contributing to their wedding's success. You spend the next few weeks tirelessly helping them out. You help to choose invitation designs, scout the wedding venue and taste-test the menu. You even work with a few other friends to ensure that the wedding runs as smoothly as possible.
Now, the big day has arrived. You get to see the happy couple exchange vows, slip the beautiful rings on each other's finger, and cut the cake. You smile, and tears start to form in your eyes. You are delighted for them, and you also feel a heavy load lifted off your back. Now, it's time to enjoy the celebrations. You may be wondering: what can you do at your best friend's wedding? Here are our three suggestions on some irresistible activities at the wedding that will surely make it a memorable night.
Enjoy the banquet!
Most couples spare no expense on the food that is served to the guests. This means that you will most definitely be guaranteed to be served some of the best food that the hotel has to offer. Expect a multi-course meal that will surely tantalise your taste buds. For more traditional Chinese style weddings, you may be served dishes that are meaningful in the Chinese culture. For instance, noodles and bee hoon are preferred over normal rice, because their length represents longevity. You'll also likely be served multiple appetisers and a dessert after the main course. So, when you're not running around ensuring things go according to plan, pick up your chopsticks and dig in – all your hard work has finally paid off.
Snap away at the wedding photo booth Singapore
More often than not, the couple decides to hire a professional instant photo booth in Singapore. This is a great opportunity for you to step outside the main wedding area and have a little fun taking pictures at a photo booth! You're already dressed up for the wedding, so why not? The photo booth will also provide props, in case you are feeling a bit more creative during the photo shoot. These props can range from very simple accessories like oversized spectacles to more action-like items, like a toy sword. You'll even receive the photo, printed on beautiful glossy paper and placed neatly in clear plastic sleeves, within a few minutes after taking the photo. If you have a few minutes to spare, definitely check out a Singapore wedding photo booth.
Jot down a few well-wishes for the bride and groom
You may have been a bit too busy running around and getting things ready, and perhaps forgotten to sit down and reflect on the celebration of love that is happening right in front of your eyes. Your best friend is about to start their own family, and they may not be able to spend as much time with the group anymore. You can spend a short time jotting down a personalised note to your friend. You can leave it on the guestbook, or drop it off at the reception. If you want it to be even more personalised, you can pass it to your friend at the end of the whole celebration. What matters is that you spend some time being truthful and reflective about the relationship that you two shared. They'll be moving forward into their new lives, and you will be moving on too.
Conclusion
Weddings are a beautiful celebration of love, but sometimes, you'll need a bit of time to distance yourself from the cheers and merriness. If you ever find yourself wanting to do something else, do consider this list of three things you can do at your best friend's wedding.