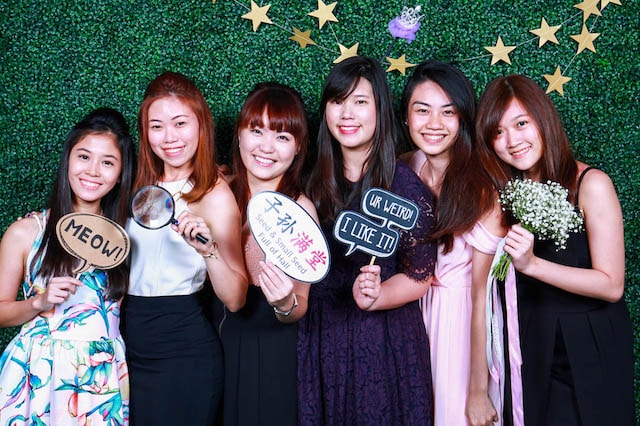 When at a wedding or party, you may encounter an instant photo booth. For the uninitiated, these booths allow you and your friends to take a picture together and receive the printed photograph within minutes. It's a great opportunity to capture a memory that you want to keep close to your heart – your best friends gathered together to celebrate the joy of love.
The best photo booth in Singapore would also provide props that you can use in the photo, allowing you to transform into a hammer-wielding knight or a goofy clown within a few seconds. This makes the wedding photobooth in Singapore a fun-filled experience for anyone – young or old.
Here are some tips to help you make the most of the instant photo booth experience.
1. You can take as many pictures as you want!
That's right! There is an unlimited number of photos you can take. What's more, you don't have to feel "paiseh" about taking more photos, because the hosts who rented the photo booths won't have to fork out any extra cash. It's all paid for under one flat fee. That's the best deal for photo booth prices in Singapore.
Feel free to experiment with the props provided, and different poses you can take. You may even come back later, if you end up meeting another friend that you want to take a photo with!
2. The prop you pick up first is most likely the prop that you think represents you
Psychology suggests that we are naturally drawn to items that we feel speak to our inner selves the most. That is the reason why we may make a beeline for particular stores or items that we see in a shopping mall. By applying this logic to photo booths, if you notice the first prop that you pick up, that could very well be a good indicator of your own personality.
For instance, if you first put on the fun, oversized spectacles, you are likely to be the goofy, fun-loving spirit. If you pick up the toy swords, you're probably the adventurous, geeky kind who enjoys superhero movies and comics.
If you can somewhat remember the item that you select, you can find out a bit more about your own personality through it.
3. Download your printed photo off Facebook!
Due to advancements in technology, the best photo booths in Singapore can now digitally upload every photo that is taken onto social media! Within weeks after the event has concluded, you can find your fabulous photo on Facebook. You can even choose to download it and make it your own profile picture – there is no annoying watermark that you can't get rid of. With both the physical and digital copies of the photo, you're sure to remember the event fondly even years after.
Conclusion
Your instant photo booth experience will definitely be much improved if you know the ins-and-outs of the instant photo booth. If you ever need any assistance, feel free to approach the friendly staff members who are manning the photo booth. They would be more than happy to answer your queries, or assist you in any way possible to get the finest photo booth experience in Singapore.