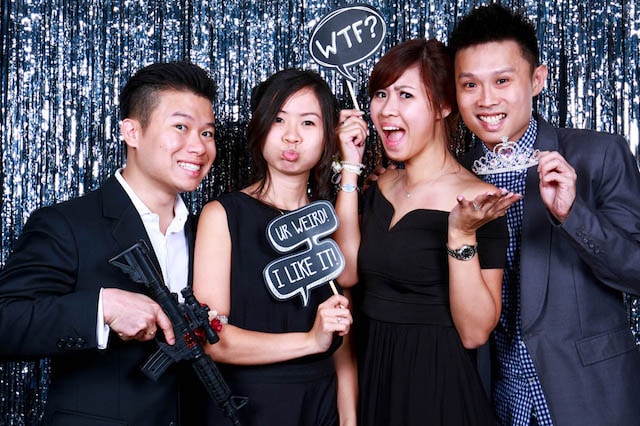 Photo booths in Singapore are becoming more and more commonplace. Party planners, wedding planners, small and large corporations are all looking at hiring the best photo booth in Singapore to boost their event's appeal. After all, photo booths offer great fun and an opportunity to instantly bring home a beautiful photo taken with the people you love. It's also a great opportunity to inculcate a company's brand awareness and help people remember the amazing event that they attended. Here are five great occasions for you to have an instant photo booth.
1. Weddings
Being the largest party you could possibly ever throw in your life, weddings are perfect occasions for photo booths. Having a wedding photobooth in Singapore makes the reception area even more exciting for guests, as they can incorporate the fun of photo-taking into the otherwise calm environment. Families often make use of photobooths for weddings Singapore to take a fun group photo – it'd be an opportunity they don't want to miss.
2. Birthday Parties
What's better than a birthday bash? A birthday party with a photo booth, of course! Liven up your birthday party with fun props that you can use in every photograph. You can even re-enact scenes from your favourite movies or memorable thoughts you've kept close to your heart – all shared with the friends and guests you love.
3. Corporate events
Throwing a big gathering for your employees? Photo booths are great for such occasions as they can entertain your guests, all the while helping to build brand loyalty and awareness. Photos printed from the booth can have a customised print template, fully controlled by you! Getting employees to get together and celebrate the success of the company has never been more riveting!
4. Fundraising events
What better way to get guests to donate money than to organise an event that's fun and engaging! Have guests pop by the booth in between different courses of the dinner, and pose for photos in the classy props provided – they'll certainly be in a giving mood once all that is over. Increase the engagement between the guests and the beneficiaries, and you'll surely be organising a ball of an event.
5. Product Launch
Getting new people to sample your business's new gadget? The best way to give them a great first impression is with a photo booth! Simply customize the photo backdrop to include the new product, and your brand's logo, and suddenly you have a perfect gift to make a great first impression on anyone – new customers, the press, or even your competitors.
Conclusion
An instant photo booth is a great choice of entertainment at any large-scale event. Your guests will certainly enjoy being able to take free and unlimited photos to bring home. Best of all, it can provide your event with an edge in branding and promotion. Give an instant photo booth a shot if you would like to boost engagement and interactivity within your meticulously planned event. It'll definitely bring the event closer to success.