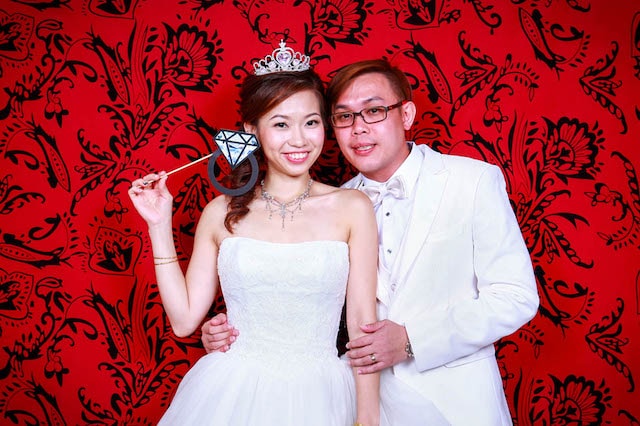 He's proposed! And you are over the moon. You've started reading bridal magazines, window-shopping for dresses, and consulted every relative on the best way to proceed with your wedding.
You're even thinking of getting photography services to document your big day. Wedding photography services are so common now, you don't even know which one to choose! Should you hire a Singapore roving photographer to capture the big moments on the day? Or maybe you should consider getting a wedding photobooth in Singapore instead? With so many options, you're completely spoilt for choice.
But why and how has wedding photography grown so incredibly popular? This article takes a look at the history behind photographs taken for weddings, in order to understand which of the more modern-day choices would best fit the needs of your own big day.
The first wedding photograph
The origins of wedding photography dated back to 1840. During this time, photographing technology was only recently developed and could only be afforded by the wealthy. The technology only allowed for still pictures on a photographer's set, as the equipment required was incredibly bulky. The first ever couple to pose for a photograph in this manner were British royalty Queen Victoria and Prince Albert.
Photographs taken at wedding venues
Technology for live photography at weddings started becoming available only in the late 1800s. This was when cameras became more mobile and couples could take pictures of themselves during the wedding itself. The popularity of on-site photography forced photographers to bring their business to the venue of the wedding, as they would lose out on potential customers otherwise.
Though colour photography was available at this time, it was still incredibly expensive, so most couples took their wedding photographs in black and white.
In the early 1900s, cameras were able to capture multiple shots at once, due to film roll technology. Couples could try out many different poses, and wedding albums could be produced – giving the newlyweds an entire book of photos to take home.
Later in the 1900s, the idea of attaching a light bulb onto a camera created the technology known as flash photography. This helped to improve the lighting of photographs tremendously. It allowed shooting even in low lighting conditions.
Modern photography and videography
With the advent of digital photography, modern day wedding photography embodies the wonders of today's photo-capturing technology. Digital photo sensors and memory cards have largely replaced film in the cameras of today, and photographers can easily capture over 100 photos in a single photo shoot – perfect for a pre-wedding album to whet your guests' appetite for the upcoming wedding.
Videography and video editing are also available for weddings. If you have taken video clips together as a couple and would like them strung together to record your time together, expert video editors can cut these videos to perfection with professional video editing suites.
Lastly, advances in computing and printing technology and how they can be integrated allow guests to now enjoy the benefits of instant-print photography! For instance, in Singapore, with a wedding photobooth at your wedding, guests can take an unlimited number of pictures with their friends and bring instantly printed photos home. Now, that's a great benefit of modern day photography!