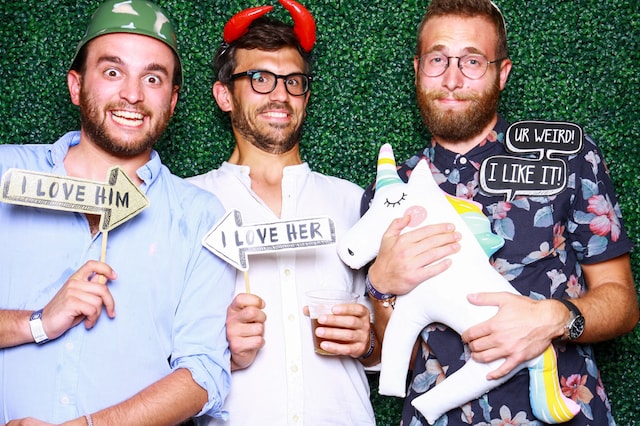 You find yourself at a wedding with your friends, celebrating the new chapter in the lives of the bride and groom. You are joyfully eating, drinking and chatting, when one of your friends notices that there is a photo booth set up near the reception area. She gets very excited, and tries to get everyone to take a photo together. "We don't even have a photo with all of us together!" they exclaim, and everyone nods in agreement. Together, your group approaches the empty photo booth and begins arranging yourselves so everyone can be seen. But you notice that the photo looks plain and boring. What can you do to make this photo taken at a wedding photo booth in Singapore even better?
The simple answer: props. And the best thing about props is that they will be right there, ready for you to use whenever you're at the photo booth. Here are 3 ways props can enhance your experience at a wedding photo booth in Singapore.
1. Roleplay and Reenactment!
Ever wanted to capture a snapshot of you and your friends in the middle of a swordfight? Or perhaps a romantic picture of you handing a rose to your life partner. All of these can be made possible with props. Simply grab something from the counter at the photo booth and let your imagination do its work.
Another possible idea for this is to include re-enactments of famous movie scenes or inside jokes that you and your friends share. If you are all huge fans of a particular TV show or series, you could pretend to be those characters in your photo, and find props that suit those characters. For instance, your group of friends could each take on one character from the Avengers series in the Marvel Cinematic Universe and equip yourselves with props for a photo based on that. These props will surely help you get into the right character to portray your favourite scenes.
2. Dress up and look absolutely silly
Some of the props provided are great avenues to create a comedic picture. Consider using extra-large spectacles or big bowties to make you look more humorous and clown-like. Getting into silly poses can also help with this a lot. If you and your friends have great senses of humour, the props can greatly enhance how funny your picture can be – it's impossible to say anything verbally to convey humor in a photo, so props is your only way out! In a few years, you may find this picture sitting in your old wallet and chuckle at the sheer goofiness present in the photo. Now that's something you can't miss.
3. Signifiers of your friendships
Sometimes, you would chance upon a prop that means a lot to you and your friends. Perhaps that toy sword reminded everyone of the time when you were playing a video game together and had a hard time fighting the final boss. Or maybe the speech bubbles that you hold up with quotes relate to a specific story that you shared together. It's often great to peruse the props, and find something that can relate to everyone in the group. Perhaps that prop will be the thing that makes your night – other than the great banquet you're attending, of course.