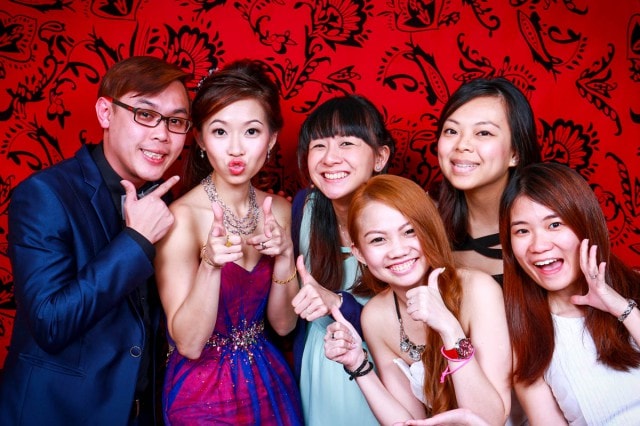 In Singapore, instant photo booths are everywhere – at weddings, birthday parties, corporate events, and even in gaming exhibitions. When you see one, you'll definitely be excited to have your photo taken with your friends. It'll capture the memory of your group hanging out at the event, meeting other interesting people, and just having plain, silly fun. The photo booths often come with props that you can use to enhance the photo-taking experience. With all of this excitement, you might forget which pose you want to use in the photo, and before you know it, your photo comes out… with you at your worst angle. In this article, we'll suggest four different poses you can use at a corporate or wedding photo booth in singapore.
The full-frontal shot
The most common shot that is a little lacking in creativity, the full-frontal shot shows the front profile of you and your friends. The front profile is great for people who have a bit more fat in their cheeks and midsection, as those extra kilograms will turn out flat in the photo. Full-frontal shots don't have to be boring – the use of props can make a photo very unique, fun and exciting, even with this simple pose. This shot is also the easiest to coordinate with your friends; just tell them to look at the camera and smile.
The back-to-back pose
This pose can add a little sprinkle of 'badass' to your photo. When you and one other friend are taking a photo, put your backs together and look in different directions. This pose is so commonly used in action movie posters that it somehow exudes an aura of mystery and foreboding. When in this pose, consider adding toy guns, lasers, or other science-fiction related props to make the photo even cooler.
The backshot with a slight head-turn
Featured in the famous painting "Girl with a Pearl Earring" by Jan Vermeer, this pose features you back-facing the camera, only to have your face turned back slightly to be captured in the camera. This pose can be very beautiful, as it focuses mainly on the face. It can also feel a little flirty or ominous, depending on your facial expression. Consider asking for a close zoom-in of your head when taking this photo in order to achieve the full effect.
The group hug
Commonly seen in pictures of sports teams, the group hug pose assembles the different members of the group. Each member then has their arm tucked around another member's shoulders, and this continues to form one giant line. Typically everyone leans forward. In a situation with an instant photo booth, the people at the side can end up doing silly things with their hands like putting a thumbs up or posing a little differently from everyone else. The group hug is great to show solidarity and commitment to the group; that is what the physical contact with the arms represent.
Conclusion
There is a certain level of planning and tact involved in the photo-taking process. Considering which pose you and your friends can use whenever you encounter an instant photo booth can help prevent those awkward moments when you have no idea where to put your hands in the photo. Use any one of these poses to ensure you look stunning in your photo.