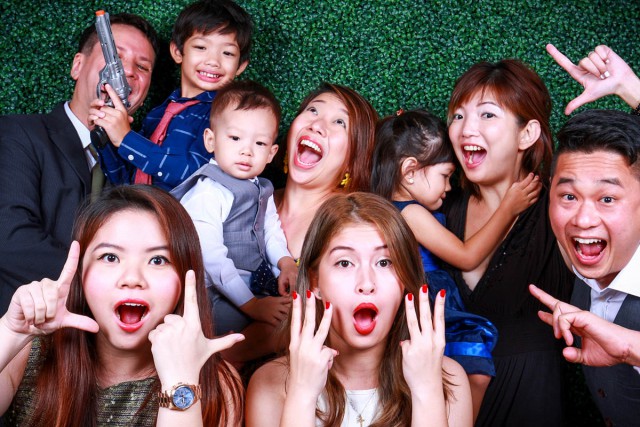 Instant photo booths are pop-up booths at events. They're often manned by a professional photographer, who will help to take the pictures of guests at the event. Guests can approach a photo booth in order to have their picture taken in front of a backdrop or green-screen. Props are also provided for additional creativity. Guests can then receive their photos within minutes of it being taken, printed with a template custom-designed for the event. Some instant photo booths in singapore will offer unlimited photos over the service duration for a fixed price. As such, an instant photo booth is great for corporate events, weddings, and other big parties. Here are 3 great features that come with an instant photo booth:
Live feed at your event venue
Photos taken at the photo booth can be immediately streamed in your event venue. This is great for a wedding dinner or other meals, as you want guests to soak in the atmosphere with beautiful music. The feed, or slideshow, will consist of all the photos your guests have taken. It makes for the great moment where someone can spot themselves – or their friends! – while having their meal.
This does not only happen with photos taken at an instant photo booth. If you hire roving photography or table shot prints, those photos will appear on the feed as well. The feed will shuffle through all the photos taken at the event, and then refresh when there are none left to show. The set-up for this live feed is a simple plug-and-play, so you can enjoy the benefits of this great service from the get-go.
Instant upload to Facebook!
When guests take beautiful shots, they want to show them to the world. Fortunately, the best instant photo booths are able to upload the photos taken to Facebook immediately! Guests can visit the Facebook page, where the photos are sorted and organised into one album for the event, and then download their favourite photos – or share them directly on Facebook. They may have just found their next profile picture!
Enjoy the superb quality of a professional photo booth
Studio-quality photos are not easy to come by. With the very best instant photo booths, we can make the studio dream a true reality. The quality from these fine instant photo booths rival those of actual photography studios – with professional strobe lights to ensure faces are beautifully lit. Guests also have the option of taking and retaking photos to their liking – great for finding that perfect shot and angle. When satisfied, guests receive their gorgeous print from a special high-speed printer, in just a few seconds!
Best of all, if guests have any questions, there is the photographer and assistant to help. They can help with suggesting poses or arrangements, or bring up the different photographs so guests get all the different prints they want. Even kids will fully enjoy the photo taking process in the instant photo booth.
Conclusion
Instant photo booths can be the life of the party in any event in Singapore. Renting one is simple, and guests will certainly be entertained.