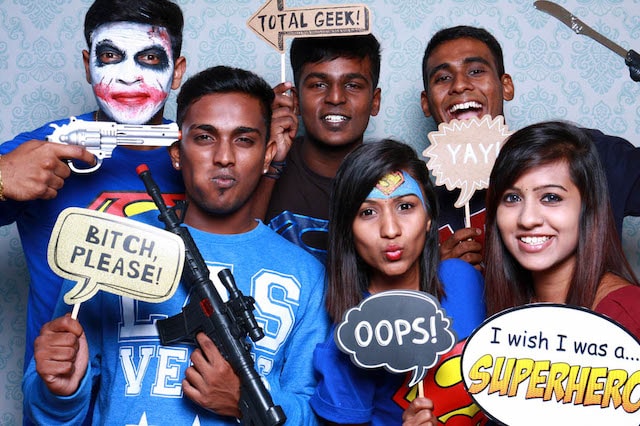 Instant photo booths can be the true highlight of a party. Essentially, these are booths that allow your guests to snap a photo, complete with props and a backdrop. These photos are developed instantly, which means guests will be able to bring these photos home as a physical memory of your party. These photos are also uploaded online, so guests can download a digital picture of themselves to use as their profile pictures too. These instant photo booths in Singapore are especially popular during wedding celebrations and large corporate events, and here are a few reasons why.
1. They unleash the guests' creativity
Taking photos is nothing new; most people have their own social media accounts where they post snaps of themselves going through their everyday life. However, a photo booth is a special opportunity for guests to break away from usual photo-taking routine. Armed with various props that can show off their cute, charming or bad-ass sides, photo booths challenge guests to come up with the most creative shots of themselves. Props include plushies, speech bubbles and other signs, and glasses of all sorts. The more creative or unique the photos, the more interesting it would be for them to post on social media to garner online traction. What can be interesting is for guests to role-play and interact with each other with the different props, which can truly allow their chemistry to shine. These photo booths are absolutely addictive for the inner creative soul.
2. They're an opportunity for photos with special people in their lives
Group photos are quintessentially part of our lives because they remind us that we shared an experience together with some people who are dear to us. Having a photo booth means people can take group photos with their loved ones, and bring them home as a special keepsake. It's much more fun and convenient than having an appointed photographer, as the photos can be printed instantaneously. Having these group photos will help your guests remember the wonderful experience they had at your party, and who they attended with. Who knows: maybe they would have taken a photo with the potential love of their life, and that one group photo will be the memory they'll always fondly reminisce over.
3. They are a form of entertainment for guests
Most of all, these photo booths offer the guests a form of entertainment, much like a live band. Guests can go crazily excited over the opportunity to take a photo of themselves, and some might even queue multiple times at the photo booth to make the best use of their perfectly styled outfit and make-up. It's a lot of fun to be taking photos, and there's no better place than a photo booth, where one can take an unlimited number of photos, which is all paid for under one package price.
Conclusion
The popularity of instant photo booths in Singapore has greatly helped weddings and parties become a much more interesting and exciting place to go to. Hiring one is sure to wow your guests and make the event a night to remember.