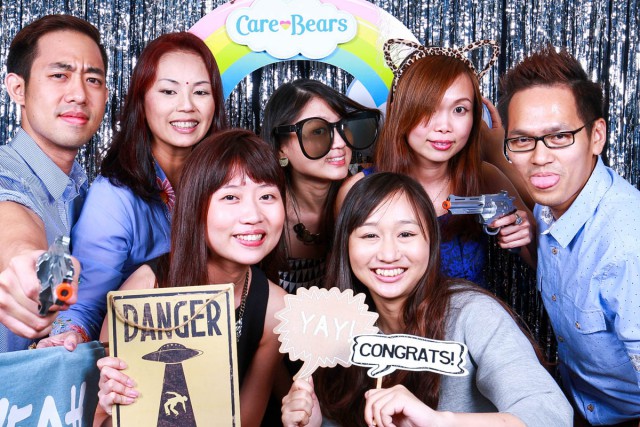 You've got your mind set on having an instant photo booth at your wedding or corporate event in Singapore. Great! You've made a great choice – these photo booths are extremely popular as your guests would be able to bring a personalised keepsake home with them after the party. Plus, it will be a fun experience for your guests to try out the different poses and props to get the perfect creative shot. Photo booths are also great because your guests get an unlimited number of shots so that they can experiment to their hearts' content! Here are a few creative things you and your guests can do to ensure maximum entertainment with an instant photo booth.
Use quirky backdrops
When taking a picture using a camera phone, you can't change your backdrop so easily – if you want a photo of yourself at the beach, then you must be physically at a beach. However, with instant photo booths, you will be posing in front of a green screen, which makes it possible to insert a customised backdrop very easily. Before your event starts, you can have pre-set backdrops for your guests to select while they take their photo. It will help make the event more coherent if these backdrops match the theme of your party or wedding. For instance, you can opt to have spooky backdrops for a corporate Halloween party. In essence, backdrops help to add flair and flavour to the photos taken and can enhance the joy and entertainment experienced at an instant photo booth.
Props, props, props!
Props help to tell a story behind a photo. Whether it's a plushie unicorn or rose, each prop will conjure a different story about the interaction between the people in a photo. Getting the chance to experiment with props in a photo booth is much like having a photo shoot in a personal studio – you really can do whatever you want! Perhaps you want a cute photo of your significant other – no problem! You can use an adorable soft toy as a prop, adding the "kawaii" touch. Want something more action-oriented? Props such as the fake sword or toy hammer will let you re-enact the most epic battle scene. These props allow for endless fun and experimentation at the instant photo booth, and your guests will be glad for the awesome opportunity to do so.
One, two, three, pose!
Finally, nothing beats the creative aspect of a photo as much as the poses you make while taking the shots. Whether you want glamour, humour or an action shot, the poses and expressions you make in each photo will help make that idea come alive. If you're looking for a new profile picture, think first about your pose. Will it be a full-frontal shot? Or a shot from the back of your head slightly turned? Preferably, pick a pose that flatters your face and body type – larger-sized people tend to look better when having their photo taken directly from the front, as it makes their face look flatter, while skinnier people can experiment more with their movement and poses.
In conclusion, the creative aspect of an instant photo booth will surely make it the ultimate crowd-pleaser at a party. Let the crowd know you care about making your party a fun and memorable one by hiring your instant photo booth.