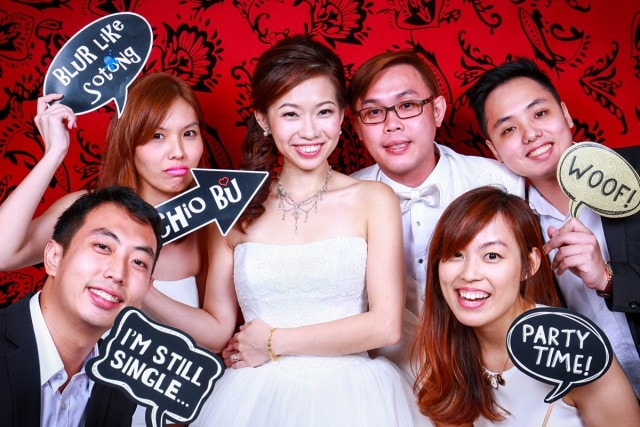 A few months ago, the love of your life lowered onto his knees and pulled out the ring. Now, you're at the stage of flipping through bridal magazines and frantically searching for the perfect wedding planner. You're probably envisioning your wedding already – your closest friends and family members coming together, mingling, and having a great time. As you mull over your wedding's details, perhaps you are considering investing in a few special activities that can really make the wedding the best night of your life. Here are a few suggestions on how to make your wedding the most memorable one yet.
Hire live entertainment
Live bands, theatre performers, stand-up comics – you name it, and you can definitely find groups of people who offer live entertainment services. By hiring these performers, you aren't just providing more entertainment for your guests to enjoy. You're also supporting these artistes by paying them for their services, and giving them exposure.
Best of all, live acts are incredibly spontaneous. Having an experienced band play at the wedding means that they can take song requests from your guests. Guests who do request songs will likely remember the experience of having their favourite tunes played at your wedding, and it gives them the opportunity to discuss their tastes in music with the other guests at the wedding.
A live band is also great if any guests would like to volunteer to sing their hearts out onstage. All the equipment is there and ready; they just need to hop onto the stage and showcase their (drunken) talents.
Get a food/drink truck
If typical hotel banquet services seem too passe, then getting a food or drink truck is great at your wedding. This is especially useful if you've decided on an outdoor wedding, where your guests can easily walk up to the truck at any time for a serving of food or refreshments. These 'food trucks' can even complement a hotel banquet in the form of pushcarts. Guests can approach these small pushcarts at the wedding reception to feast on the food and drinks available.
The best 'food trucks' are those that can provide food that is not normally seen at a wedding, such as churros or hot dogs, assuming your guests are up for western cuisines.
Get a photo booth for your guests
A photo booth at a singapore wedding is the perfect way for your guests to bring home personalised keepsakes. A photo of themselves with their closest friends or family is a visual reminder of the great time spent together at the wedding, and will likely be treasured for many months to come.
Most photo booths also include props for your guests to get creative with. Best of all, the prices paid for the Singapore photo booth cover an unlimited number of shots, so they can get as many photos as they like – as long as they don't hold up the line, of course.
Photo booth services can also upload a soft-copy of these photos onto Facebook, which allows your guests to access them anytime, anywhere. These photo booths are so popular, it's almost a must-have at any modern wedding.