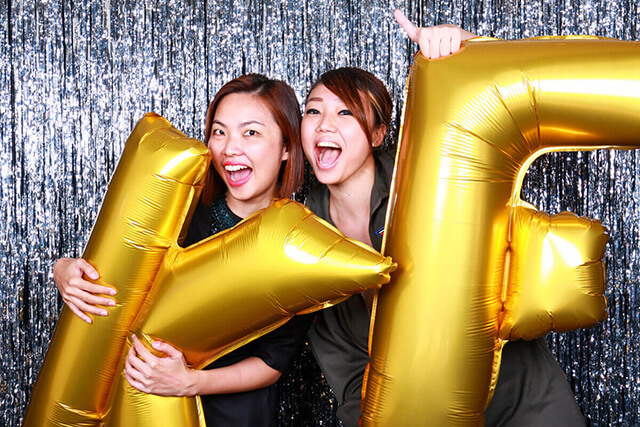 Company dinner and dance events aren't exciting for everyone. Not everyone is interested in dancing and there will be some who actually hate corporate dinners. However, you can jazz up things by making some simple additions or tweaks to your company's annual dinner and dance this year. How about renting a corporate photo booth in Singapore?  Well, it's about time you read the pulse of the crowd and introduce happening and interesting elements to the party. Photo booth rentals are perfect when it comes to entertaining guests at any party, especially at the company dinner and dance
If you're in-charge of hosting the most important dinner and dance event of your company then there's a chance you are fretting over what to do. Call in the services of a professional corporate photo booth in Singapore and get your guests swooning! Even though photo booths aren't a new concept, it's becoming really popular as more and more people realise that they add entertainment to any party. Your company dinner and dance event this year can just turn out to be the perfect opportunity to let your hair down and get the clicks going on social media!
How do you choose an appropriate photo booth corporate Singapore?
The key is to hire the services of a reputable and reliable company. Even though there're hundreds of companies in Singapore that offer photo booth services, you need to carry out a proper background check before making the final call. A good corporate photo booth provider can make your event a big success.
Professional photo booth companies bring in all the props to increase the fun factor at your company's dinner and dance. One of the biggest attractions of photo booths is the props, which range from moustaches to masks! Your guests can have great fun with the different props they get to use while taking some memorable pictures. A decent company will always have an attendant at the photo booth to assist the guests in choosing the props and help with the actual photo taking. In case something malfunctions or there are other issues at the photo booth, it can be easily handled by the attendant.
Why opt for corporate photo booth rental?
Stop worrying about party favors: Photographs printed at the photo booth will automatically serve as a party favor thus you need not worry about the favors. Every participant at the company's dinner and dance will leave with a memorable photograph in their hands. Long after the party is over, they will remember the fun and enjoyment. This gesture will not only be appreciated but people will expect the same every year.
Social Media updates: Most of us won't admit it, but we love updating our social media profiles to make ourselves as relevant as possible. Modern corporate photo booths in Singapore come with Internet capabilities and give you an instant option to download each photo quickly after taking them. Attendees can, at the very least, leave with a photo on their social media pages looking suave.