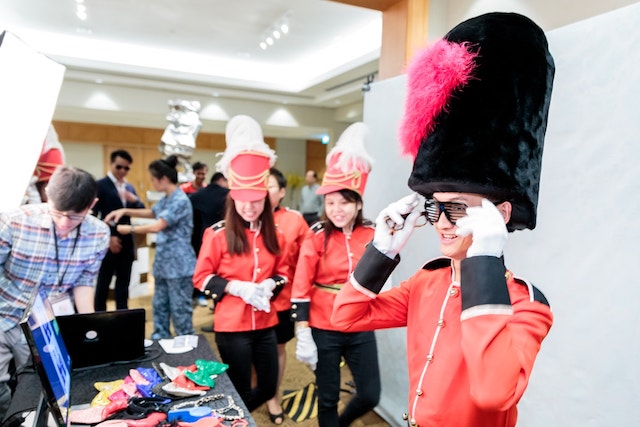 It is clear that corporate branding and marketing is no longer about images of expensive-looking, suit-clad people handing out flyers and business cards. Neither does it only rely on analytics to launch a huge digital marketing campaign. For effective branding at your event, you have to do a lot more than merely pasting your company logo on a few posters.
Successful corporate branding not only involves the visibility of your brand during the event but also promotes active engagement with the attendees or audience. To get your audience involved and have them promote your brand knowingly or unknowingly, consider hiring a corporate photo booth.
With customisable templates and quick print delivery, attendees don't have to wait very long before they get their very own copy of their photos!
This article offers some helpful tips to increase your brand's visibility using a photo booth.
Creating a custom backdrop
Having custom backdrops that consist of a company logo, social media channels, website information and other vital information somewhere in the background will enhance your brand's visibility. Of course, attendants of the party can share the photos on social media and further promote the company.
Including Timeless Branded Keepsakes
Corporate photo booths with a background image that only feature the company's logo are pretty ordinary. Giving out branded keepsakes at the photo booth in the form of photos with your company's customised overlay wittily and skillfully engages the audience, and can be a huge plus in driving the advertising message home. When the owners or anyone else see the photos, they will inevitably be exposed to your company's information, be it the logo or contact information.
Include social media handles
Photo booths have evolved tremendously over the years. In the present age of social media, the very best photo booths offer a lot more than just printed photo strips. They are usually capable of Internet connectivity, which allows users to receive their photos and immediately upload them to social media networks. Instant shareability on social media enables maximum reach, exposing your brand name to a wider audience. You can generate a huge impression on social media. Immediate shareability on social media offers your brand the ability to generate awareness as the function is taking place. In the end, you can analyse how well the corporate photo booth affected your event. Plus, after the event, with online posts on social media continuing to attract engagement, your brand will remain in people's heads and social media feeds for a while. So, it may be a huge miss if you choose a photo booth without Internet connectivity.
Try to get the event "trending"
Nothing can be effective in creating a real-time awareness of your corporate event than creating a trending hashtag. If the photo booth was exquisitely set up and everyone likes the products from the photo booth, there will undoubtedly be a discussion and multiple interactions on social media due to many quickly uploading their photos online.
Gifts and rewards at the photo booth
Many corporate companies employ the art of gifting attendees with prizes and making sure each person is pictured proudly with the product. In the corporate sector, such a humble act goes a long way in promoting the 'generous' and humane side of the company. 
The parting shot
Staging a corporate event shouldn't merely be about explaining achievements that later become forgotten. You should always consider the possibility of leaving lasting impressions in the hearts and minds of the invited persons. First, there's the generated and increased brand awareness, followed by the benefit of capturing the moods and excitement of participants in their purest form.