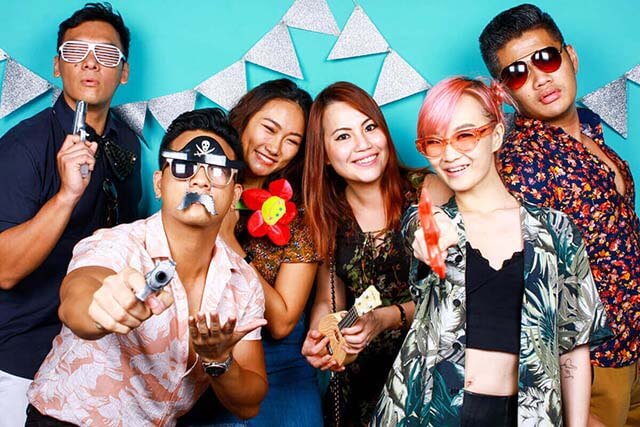 Virtually no wedding takes place today without a photo booth on site. This new trend at wedding receptions not only breaks the ice between guests, it even heightens the fun and thrill of the occasion. Just a few eye-catching backdrop ideas, quirky props and a photographer with killer skills will see your wedding's photo booth swelling with excited family and friends. It inevitably cranks up the excitement level at your wedding.
In all honesty, the second most liked part of a wedding is a photo booth. It is where memories are made and captured, the couple and their guests' line up for a photo shoot, and each savors the moment. A photo booth backdrop can make-or-break the moment.
Talking about the attention-grabbing backdrop ideas, there are tons of ideas out there to take inspiration from. A sizeable number of them are fairly simple to set up as they don't necessarily require expensive fabrics and decorative items.
Professional wedding booth companies have the best skills and expertise to conceive a fantastic idea based on the nature and theme of the wedding. So, you can also seek their opinion on what best suits your wedding. As part of your research, consider the following backdrop ideas for your wedding photo booth.
1. Retro Back Drops
For fans of trends and designs before the onset of the millennium, polka dot backdrops are a fantastic way to capture and integrate them into your wedding. Some may find a polka dotted wedding too garish, but a polka dotted photo booth screams nothing but fun.
2. British Regality
Wondering how you can show your guests your love of horticulture and nature? Look no further than a backdrop mimicking a vertical garden. Green and mimicking the texture of actual vertical gardens, this backdrop will give your photo booth and subsequent pictures a unique look, transporting you and your guests to famed Victorian gardens of the previous century.
3. A Scenic Photo Booth
A scenic photo booth can extend far beyond any physical limitations. Green screen photo booths use chroma-keying technology to transport you and your guests anywhere in the world from your photo booth. Take your photos against the backdrop of famous movie sets, cities or landmarks across the world. This will bring no end of laughter for you and your guests.
4. Masquerade
Want your wedding to look like something straight out of your wildest fancy party dreams? A shimmering backdrop of golden streamers will give your photos masquerade vibes, straight from a 20th century Venetian party. This will be a fantastic reason for you and your guests to get dressed to the nines and you will still have many photos to remember it by.
Other gorgeous backdrop ideas may include a fairy-tale wedding backdrop, a brick background with jazzed up chalkboard props or maybe a simple, traditional booth. The main idea is to use something that expresses your personalities and the theme of the wedding. Don't forget to show yourselves openly – it is your big day!