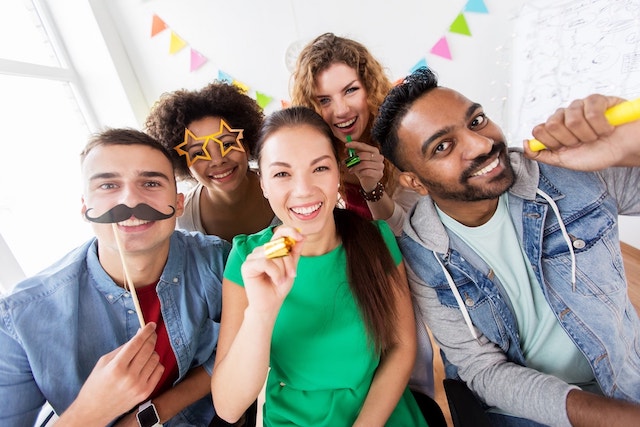 Are you planning a corporate event such as a product launch, marketing event, awards ceremony, end of year work party or annual dinner and dance? Wish to incorporate something unique and special to your corporate event? A good strategy to ensure the success of the event is to rent a photo booth.
The booth will bring in an exciting and memorable experience for everyone involved. Moreover, the fact that the standard modern photo booth comes with internet connectivity, to social media platforms and emails means that all the attendees can instantly share the snaps on social media. Your event will be talked about positively.
One thing is for sure; the booth serves to leave a lasting impression on your suppliers, clients, workers and other invitees and the fact that they can take home with them loads of amazing pictures will further reinforce that good impression.
This article lays out other reasons for the importance of hiring a photo booth for your corporate function.
Enliven The Proceedings
There's no hiding from the fact that renting photo booth brings great entertainment value to any event. It livens up the event and gets invitees to let loose. Position the booth at a high traffic area of the event and watch your attendees jump in and out taking great shots of themselves. As they wait for their turns in the line, they can mingle and chat. This can be an informal icebreaker for your event.
Branding Experience
A customised photo booth can provide a branded experience for your business during the event. If prospective clients attend the event, they'll be going home with a printed photo featuring your logo. Modern photo booths typically possess Internet connectivity, instantly uploading photos online. Photos can be immediately downloaded and shared by those attending your event. Having your brand flooding social media with pictures from the event will be fantastic marketing exposure. As such, this would act as a lasting reminder of the memorable experience they just enjoyed. With your business logo within snaps taken from the booth, this type of marketing will feel more personal compared to an online advert because it includes their own photo. It is bound to turn more potential clients into regular customers.
Marketing Images
A company is always judged by how happy its employees are. Therefore, companies always want to give the impression out there that their employees feel happy to work for them. However, the best way to portray to a prospective applicant that your company is the best place to work is to add stunning photos on your website taken from a corporate photo booth showing your employees smiling and laughing. Moreover, add some creative props, and you'll get some unique employee snapshots that can form part of your marketing message. You will start to attract top talent since they know the company is full of happy personnel.
Lasting Memories For Your Staff
What's the point of throwing the best party ever without having the photos to prove it? Thanks to corporate photo booth, all your personnel will have a lasting memory of the function. What better way to enliven your workspace than that comical photo booth snapshot of you and your supervisor wearing those bizarre mustaches?
In conclusion, corporate photo booth rental not only provides an entertaining and memorable experience for the attendees, but it's also a great marketing platform for your company suitable for increasing your brand visibility.